Corvette and Thunderbird: The Beginning

It wasn't until the early 1950s that the two biggest American carmakers decided to roll out something that was a departure from the family sedan. In 1953, General Motors unveiled a prototype of a sports car…the Corvette. A little over a year later, Ford revealed their new sports car…the Thunderbird.
Both cars were the epitome of cool and were unlike anything either manufacturer had ever rolled out on a showroom floor. Both were two-seat convertibles that came with hardtop and soft-top options. Cool, hip, different.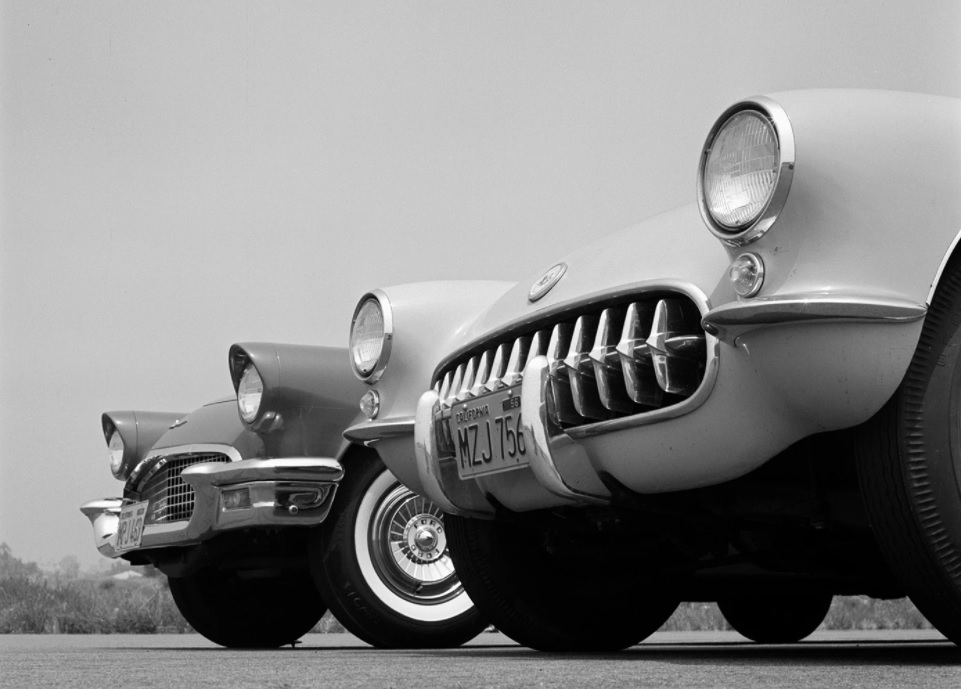 Here's a look at the features and styles of those first two editions, as well as some of the most interesting facts about their arrival on the scene back in the 1950s.
Race to the starting line.
In the early '50s, five-plus years after the end of WWII, car sales had started to slow. Both GM and Ford were working on something new—something sporty, powerful, and different.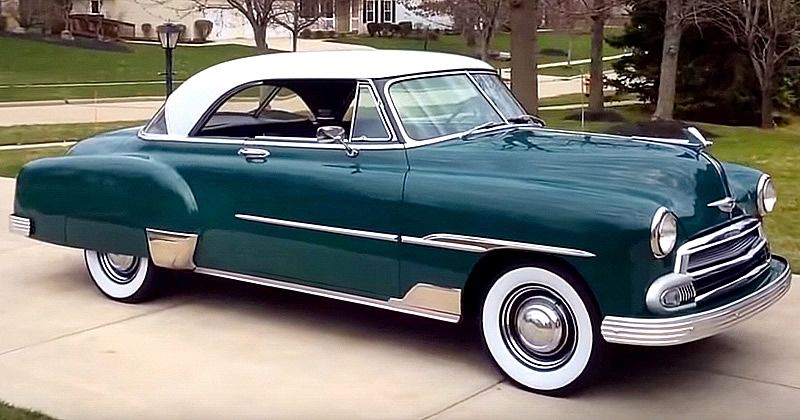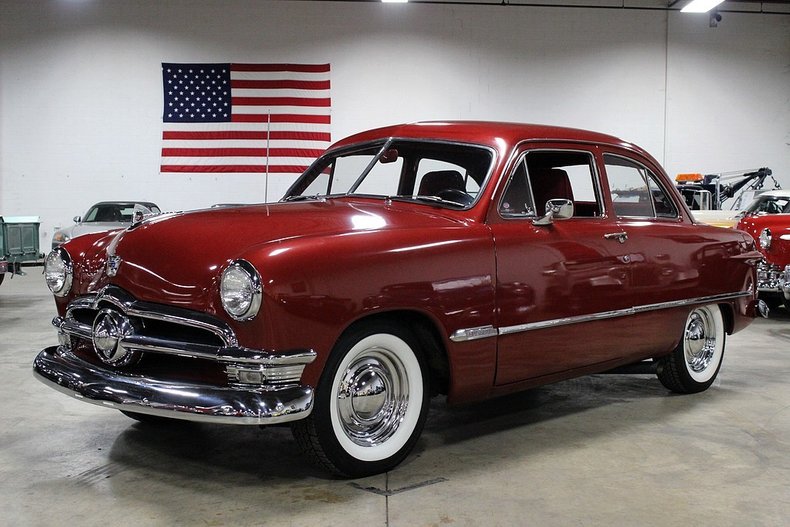 You might have read that the Thunderbird was Ford's response to the Corvette, as in this sentence from a publication: "The Ford Thunderbird was introduced in February 1953 as a response to Chevrolet's new sports car, the Corvette, which was publicly unveiled in prototype form just a month before."
That's not totally accurate. It's not as if Ford saw the Corvette's debut and then jumped into action. When Chevrolet debuted the Corvette, Ford's project to create a sporty car had been in the works for a while. It did, however, light a fire under the project at Ford.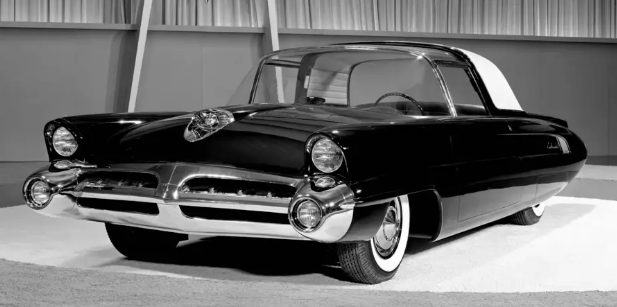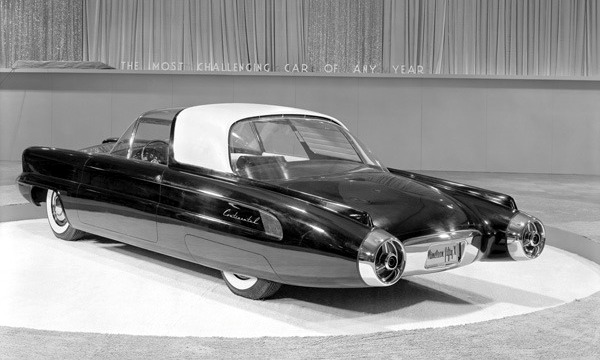 Sports car vs. sporty luxury car.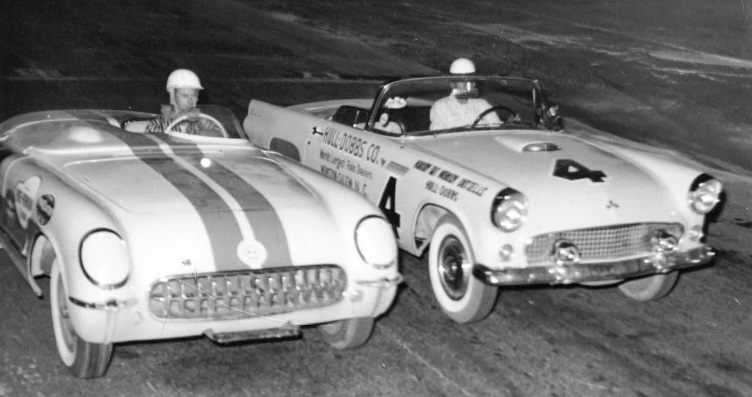 The Corvette was conceived as a sports car from the very start. It was designed to look and drive like a sports car, something to rival popular European models—in other words, to look NOTHING LIKE anything Chevrolet had ever done. They wanted to capture the attention of American car buyers who didn't even know they wanted something totally different, new, exciting…and sporty.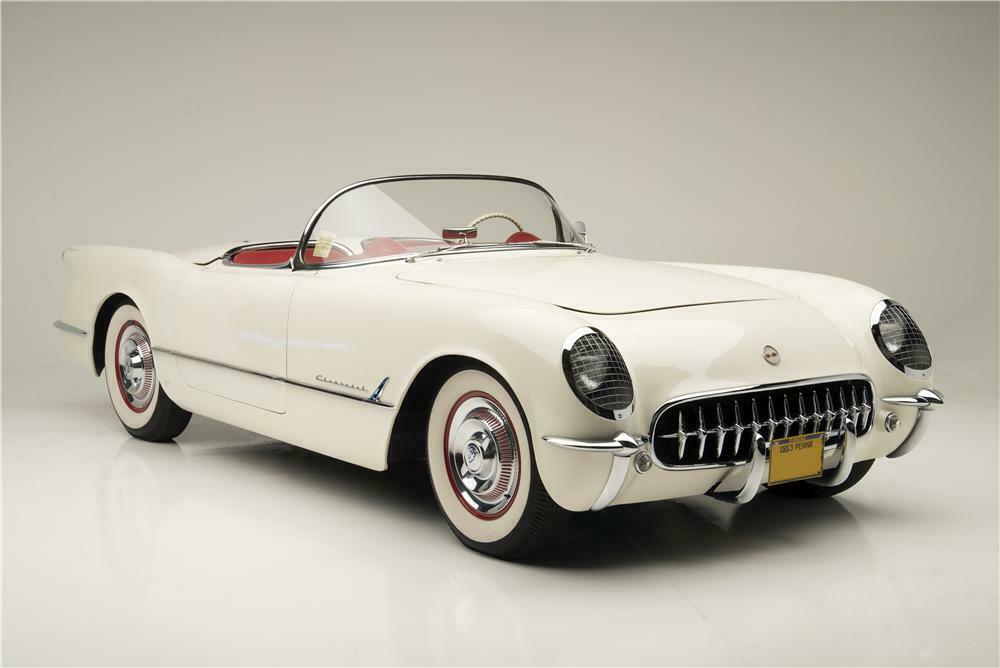 By definition, a sports car is designed to be for driving and handling. The style and performance of the car, in theory, take a back seat to other concerns, such as accessories.
Ford had a different take on their new concept car. While they too were inspired by European sports cars, they wanted to introduce a sporty new car that was also luxurious, powerful and personal. In fact, with the introduction of the Thunderbird, Ford is credited with creating an entirely new category of automobiles—the personal luxury car.
Still, in their initial literature, Ford called the Thunderbird a sports car. The first T-Birds even featured a "crossed flags" logo—suggesting a sports car—on the hood and the rear deck.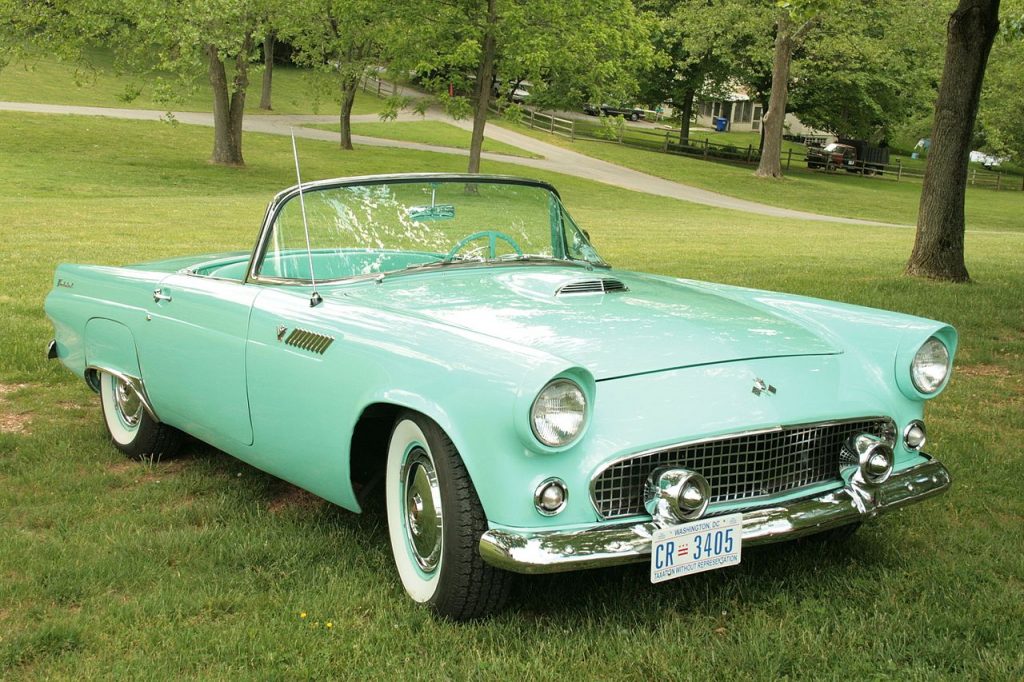 To this day, Corvette has always been produced as only two-seater, although a prototype was created in 1963 (but never produced) and an aftermarket back seat was available at one time. Thunderbird introduced a four-seat model in 1958—which sold extremely well—and rolled out larger versions in later years, before reintroducing a two-seat Thunderbird in 2002.
Debut of the Corvette: January 17, 1953.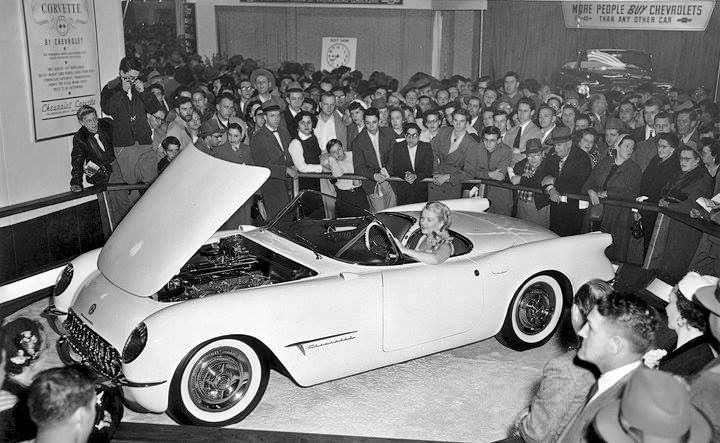 Corvette made its debut as a prototype concept vehicle at General Motors' own Motorama in New York City on January 17, 1953. The automotive showcase, independent of the annual auto show at that same time of year, was held at New York's Waldorf Astoria Hotel.
Reaction to the new sports car was enthusiastic, with thousands of people eager to buy the new car as soon as they could get it. Chevrolet decided to put out a limited production run of 300 Corvettes just six months later. The number of Corvettes produced the next year was 3,640, over 10 times more.
Of course, the revolutionary body construction of those first Corvettes was the most distinguishing feature of the car, rolled out in 1953 with a revolutionary all-fiberglass body. To this day, all Corvettes have been produced with a composite-material body.
Every Corvette produced in 1953 came with a Polo White exterior and a red interior. The price tag? Around $3,490.
Debut of the Thunderbird: February 20, 1954.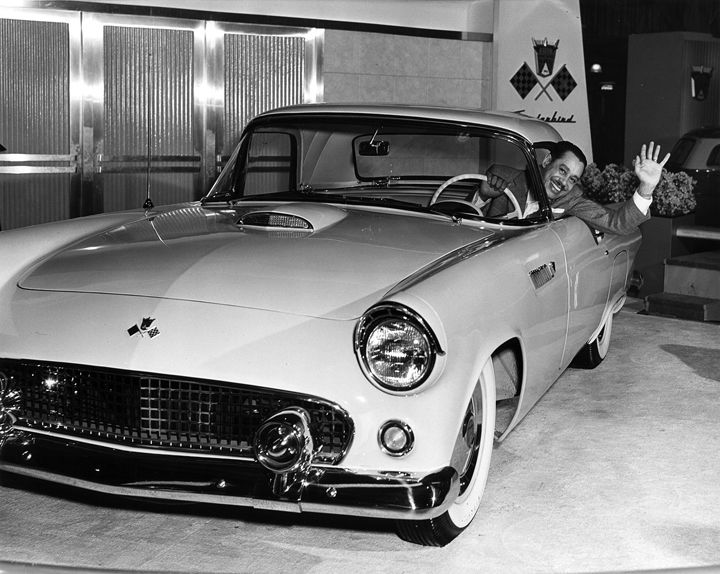 A year after the Corvette debut, Ford unveiled the Thunderbird to the public at the Detroit Auto Show, and the car was instantly popular. The car went on sale on October 22nd of that year, and sales were strong right out of the gate: 3,500 orders placed in the first 10 days.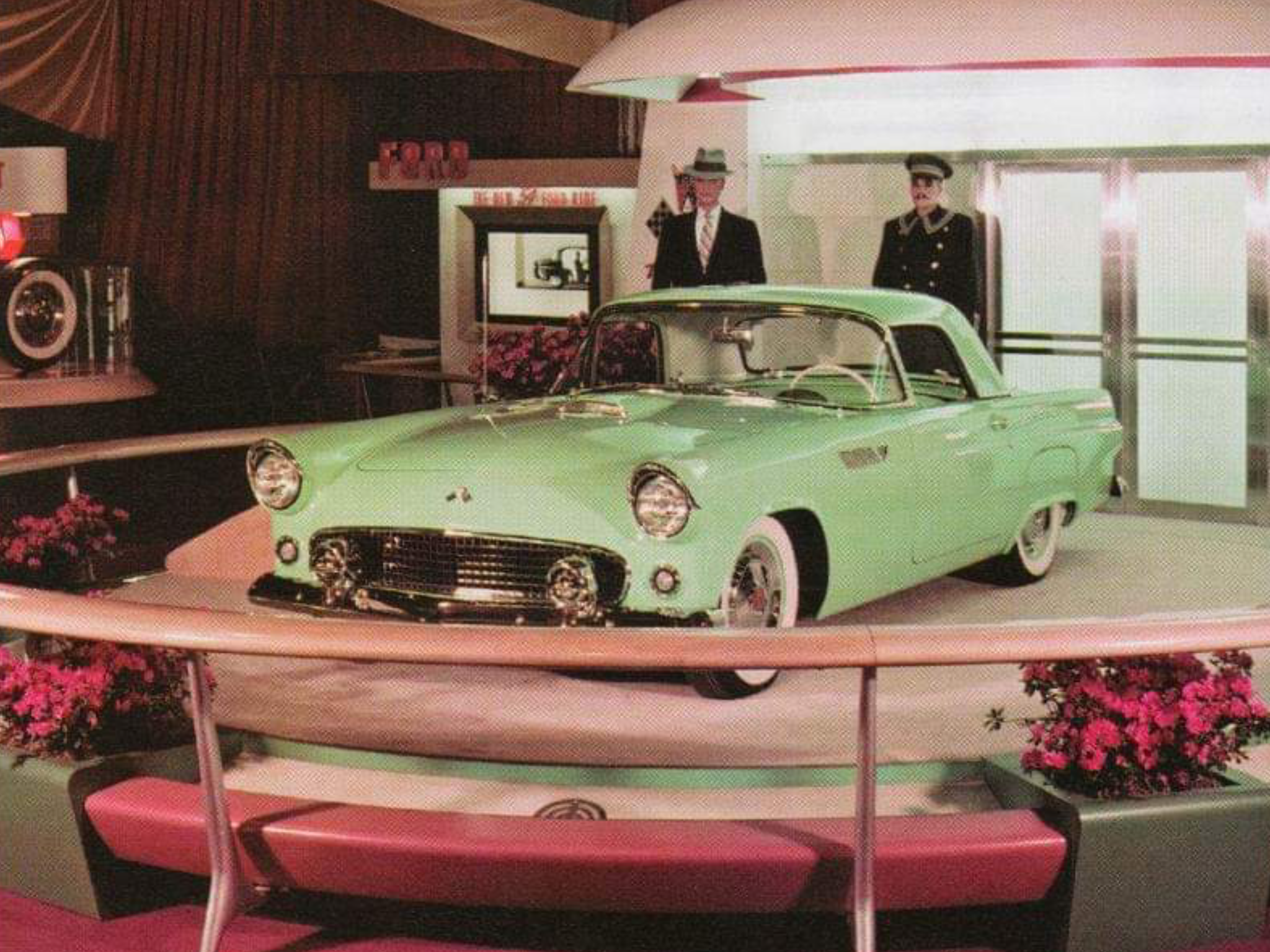 Ford had anticipated sales of 10,000 Thunderbirds—in actuality, more than 16,000 T-Birds were sold in 1955.
Just three colors were offered on the first Thunderbirds: Raven Black, Torch Red, and Thunderbird Blue. In the early months of 1955, Snowshoe White and Goldenrod Yellow were made available. The price tag? About $2,944.
Where did their names come from?
The names for both the Corvette and the Thunderbird weren't known until well into their development.
Corvette: A corvette is/was the name of a sleek, fast American WWII transport ship that was instrumental in chasing down German U-boats. How that name came to be "the one" is a good story.
As legend goes, Myron E. Scott, a photographer in the public relations department, came up with the name Corvette and wanted to "sell" the name to the head of the project team, Ed Cole…in a unique way. He sent a note that read, "How would you like to take a ride in my Corvette?" When Cole read it, he called the photographer and invited him to take a ride in his new Corvette. "What's a Corvette?" the photographer asked. Cole answered, "It's the new sports car built by Chevrolet."
Thunderbird: The name of a mythical bird from Native American lore, the thunderbird creates thunder with its wings and is the ruler of the sky. Supposedly, Ford held an in-house contest to name the new car, and the winner (who was a Ford marketer) designed the Thunderbird logo. Ford announced that the name of the car was "Thunderbird" on February 19, 1954…one day before its premiere for the public.
Initial Specs:
1955 Thunderbird
Wheelbase: 102.0″
Length: 175.3″
Width: 70.2″
Top to ground: 52.2″
Front track: 56.0″
Rear track: 56.0″
Curb weight: 2,980 lb
292 cubic-inch Y-block V-8 engine
198 horsepower
3-speed standard transmission
Removable hardtop and soft top options
1953 Corvette
Wheelbase: 102.0″
Length: 167.2″
Width: 72.2″
Top to ground: 52.1″
Front track: 57.0″
Rear track: 59.0″
Curb weight: 2,850 lb
Inline 6-cylinder engine (Blue Flame)
150 horsepower
2-speed Powerglide automatic transmission
Removable soft top

See these rivals match up against each other:

RESOURCES: Fordmuscle.com/features/blue-oval-icons-ford-thunderbird; blackburnwheels.com/a-look-at-the-early-generations-of-the-ford-thunderbird; liveabout.com/the-first-corvette-916344; superchevy.com/features/corvette-built-with-backseat; landerschevroletjoplin.com/blog/10-fun-facts-about-the-1953-corvette; en.wikipedia.org/wiki/Ford_Thunderbird; macsmotorcitygarage.com/1958-to-1962-corvette.
Publications: Corvette: The Classic American Sports Car: Mason Crest, 2018. David Jacobs.Thunderbird! Illustrated history of the T-Bird: Evergreen Press, 1973. Ray Miller.
T-Birds: MetroBooks, Friedman/Fairfax Publishers, 1999. Doug Mitchell.
Featured T-bird image photo credit: montereytouringvehicles.com