POL Open House – Cancelled (Event to be Rescheduled)
Aldan American is headed to the 2020 Performance Online 6th Annual Open House this year in Corona, CA.
Be one of the first to see POL's new headquarters here in Southern California.
Cool Cars, Good People, Great Food, Rock-n-Roll, Giant Raffle, Magazine Coverage, Vendor Row + a whole lot more!
This is your opportunity to register online via the link below.
Date & Time:
2020 Event has been cancelled as of 10.16.20
More Details to follow
Video from POL's open house in 2019
For coverage on previous POL open houses, check out the links below.
The crew at POL knows how to throw a great time. Past open houses have been huge successes, with tons of hot rods, classic trucks and custom builds. POL always has an amazing lineup of your favorite classic cars and trucks. It's also an opportunity, to get into the giving spirit early. 100's of donations have been made to benefit the Toys for Tots charity at past events by show attendees and vendors.
We look forward to seeing you at this year's open house. The Registration form is located here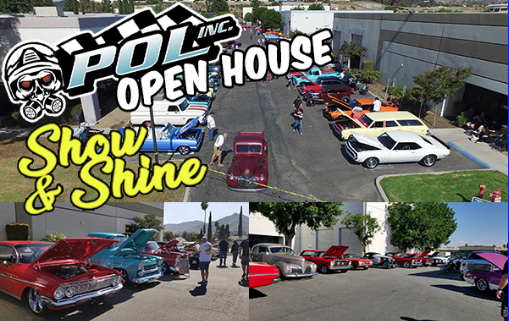 Upgrade your ride to be show ready in time for the POL Open House!