PROFESSIONAL GRADE COILOVER CONVERSION KITS FOR RACING
Aldan American Coilover Conversion Kits include everything needed to transform the handling of your muscle car or truck by installing springs and shocks specifically matched to your vehicle. Our coilover conversion kits are 100% bolt-on conversions that don't require cutting or welding. The kits include front coilover shocks and springs, upgraded tubular control arms, rear shocks, hardware and chassis-specific brackets where applicable.
Aldan American Coilover Conversion Kits
Aldan coil-over shocks are manufactured in the U.S. from lightweight, high-strength 6061-T6 billet aluminum. Aluminum is chosen over steel for several reasons, including lightness and its far better ability to shed the heat generated by the shock's movements than steel. Every Aldan American coil-over shock is fully serviceable and rebuildable and comes with Aldan's Forever Guarantee.
Aldan American coil-over shocks are available in factory pre-set (non adjustable), single-adjustable (rebound) and double-adjustable (rebound and compression) configurations. Shock ends can be ordered with polyurethane bushings for a more comfortable ride or with spherical bearings for more precise control.
All Aldan American coilover shocks have been designed and developed incorporating our more than 40 years of experience in muscle car suspension and are available in almost any dimension for your street rod, hot rod, classic or modern muscle car and truck, and racing or custom chassis vehicle.
HOW CAN WE HELP YOU?
Call us and we will help you find the right part for your vehicle.
Product Spotlight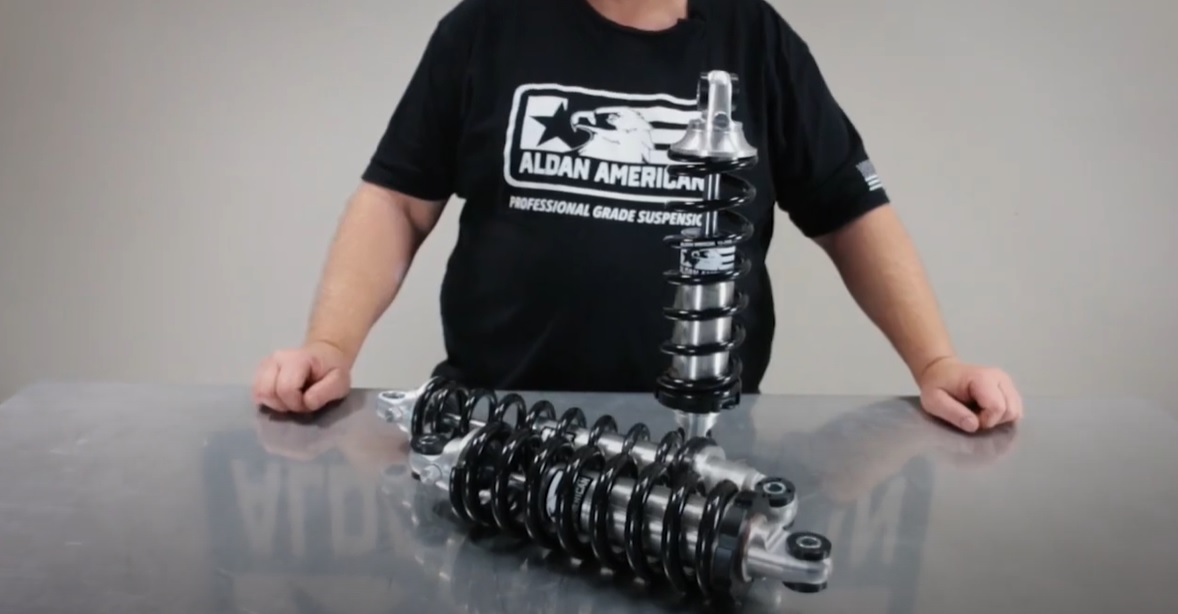 Phantom Series Shocks
Phantom Series Single Rebound Adjustable Coilover Shocks Aldan coil-over conversion kits are designed to convert your stock, front suspension to coil-overs. Aldan Phantom Series, single adjustable coil-overs deliver superior handling & ride quality for a drastic improvement over stock suspension. Aldan kits are a 100% bolt-on design that eliminate cutting and welding. Aldan coil-over kits are ride-height adjustable allowing you to properly lower your ride-height up to 2.0 in. Great for street applications.
Specs:
• 11 Points of Adjustment – Easiest to Adjust and Tune for smoother ride
• Nitrogen Charged – Provides a smoother, more consistent ride
• Made in U.S.A. – Designed with lighter weight, higher strength billet mounts, bodies & hardware • Serviceable & Rebuildable – Never buy new shocks again
• Use with 2.5" I.D. Coilsprings
• PAS models include 1" x 1/2" I.D. Bearings (Additional Bearing Options and Sizes available)
ARTICLES & RESOURCES