CUSTOM COIL SPRING SUSPENSIONS FOR CARS & TRUCKS
Aldan American offers a range of highly-engineered, aftermarket suspension springs used primarily for on-road and off-road powersports performance markets. Our springs are available in a range of different lengths, weights and finishes. Our custom coilover springs are developed, tested, and manufactured in the United States—to precise standards that are designed to offer top-of-the-line suspension control and to provide a superior ride for your vehicle.
No products were found matching your selection.
ALDAN AMERICAN'S SUSPENSION COIL SPRINGS
Aldan American offers a range of highly engineered, aftermarket coil springs in various lengths, rates and finishes. Aldan American 2.5-inch I.D. coil springs are cold wound from high tensile, chrome silicon steel to deliver consistent performance. All our custom coilover springs are available in one of two finishes—a durable black powder coat or a polished hard chrome finish. Aldan American coil springs are available in 6", 8", 9", 10", 12" and 14" free lengths, with rates from 80 pounds per inch to 800 pounds per inch.
All Aldan American coilover springs have been designed and developed in the U.S., incorporating our more than 40 years of experience in muscle car suspension. They are available at almost any rate and free length for your street rod, hot rod, classic or modern muscle car and truck, and racing or custom chassis vehicle.
HOW CAN WE HELP YOU?
Call us and we will help you find the right part for your vehicle.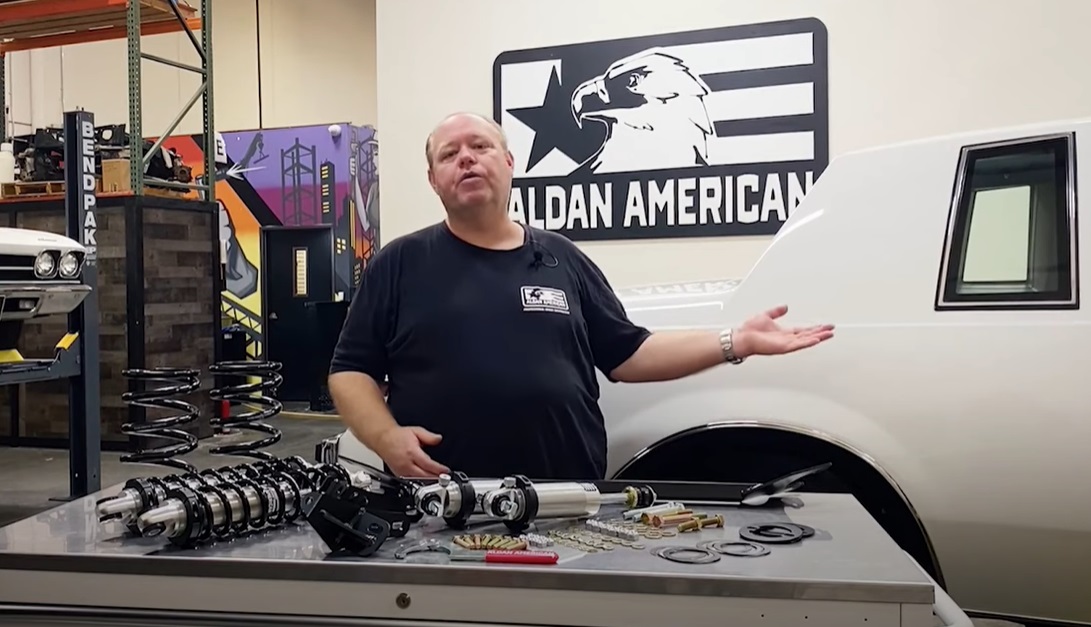 VEHICLE SPOTLIGHT | G-BODY SETUP
G-Body "Turbo T" Setup on our Full Road Comp Suspension kit. Coilovers up front with our TruLine series rear shocks.
In this video, Gary with Aldan American takes us step-by-step to set up the Turbo Regal with Aldan American coilovers in the front and TruLine Series rear shocks. No cutting or welding is necessary for this coilover kit installation. They enable you to lower 2 inches of ride-height, giving your G-Body the appearance and feel a factory suspension can't match. G-Body Models: Monte Carlo, Grand National, GNX, El Camino, Grand Prix, Cutlass, Regal, Malibu, LeMans, Bonneville
ARTICLES & RESOURCES