Ford Maverick Coilover Kits & Suspension Upgrades
1970-1977
Ford Maverick Coilover Kit
Years: 1970-1977
The 1970-1977 Ford Maverick was based on the Falcon platform dating back to 1960, with its high-mounted front coil springs and leaf spring rear suspension, though a lower center of gravity and standard front roll bar improved handling.
Whether you're upgrading a standard Maverick or looking to improve a Grabber or Stallion, an excellent start is to install an Aldan American coilover front suspension kit. Each coilover conversion kit is a bolt-on assembly and does not require cutting or welding to install. Aldan American offers single adjustable shocks for the rear axle to complete the suspension upgrade.
The front coilover conversion is available with single- or double-adjustable shocks. Every Aldan American shock is fully serviceable and rebuildable and comes with Aldan's Forever Guarantee. Plus, with adjustable spring perches, you can lower the ride height by up to 1.5 inches to get the stance you want.
Need a Different Year?
1964 – 1973 Ford Mustang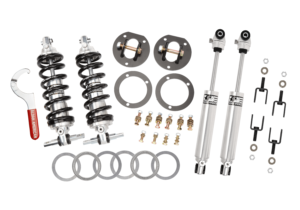 FEATURES & BENEFITS
Made in the U.S.A.
True Bolt-On Design
Properly Lowers 0.0-2.0" From Stock
Fully Adjustable – Improves Handling & Control
Smoother Ride on The Street
Easy To Tune With Turn Dial Adjustment – Set To Your Liking!
Aldan Shocks are Fully Rebuildable & Serviceable
Lifetime Warranty
Aldan American Ford Maverick Suspension Upgrades
The 1970 Ford Maverick was launched exactly five years to the day after the Ford Mustang. Like the Mustang, the Maverick's first year was a sales hero, with over half a million delivered.
The Ford Maverick was initially offered in several youth-oriented exterior colors, including Anti-Establish Mint, Hulla Blue, Original Cinnamon, Freudian Gilt, and Thanks Vermillion.
The Maverick Grabber trim was introduced for the 1971 model year and steadily grew from an appearance-only package to one offering some upgrades in performance, including the 1974-only Handling Package.
The ultimate Maverick was the 1976 Stallion, a one-year-only model. For the enthusiast, it was the most desirable of Mavericks with the optional 302 V8, a four-speed manual transmission, heavy-duty suspension, and a limited-slip differential.
A primered 1971 Ford Maverick Grabber appeared in the blockbuster Fast Five movie, part of the Fast and Furious franchise.
HOW CAN WE HELP YOU?
Call us and we will help you find the right part for your vehicle.