Oldsmobile 4-4-2 Coilover Kits & Suspension Upgrades
1964-1967
First-Gen Oldsmobile 4-4-2 Coilover Kit
Years: 1964-1967
Initially an option package for the F-85 and Cutlass, the Oldsmobile 4-4-2 was first available for the 1964 model year on the new GM A-body platform, the first GM intermediate on a full perimeter frame with independent front and a four-link coil spring rear suspension. The package was named 4-4-2 by Olds, first representing the four-barrel carburetor, four-speed M20 manual transmission, and dual exhausts. The engine under that carb was a 310 HP 330 CID V8. In 1965, the standard engine was upgraded to the 345 HP 400 CID V8. Power increased to 360 HP with the L69 triple carb setup. The first-gen 4-4-2 heavy-duty suspension package included higher rate springs, aggressively valved shocks, a 0.937-inch diameter front and 0.875-inch rear sway bar, and boxed lower rear control arms with stiffer bushings.
A fantastic upgrade to your 1964-1967 Olds 4-4-2 is a four-corner coilover suspension from Aldan America. There are separate front and rear adjustable coilover conversions available that you can order together or separately. The shocks can be easily adjusted to match your needs, whether street, strip, autocross or all three.
Each Aldan American coilover conversion kit is a 100% bolt-on installation that doesn't require cutting or welding. Plus, with adjustable spring perches, you can lower ride height by up to 2.0-inches to get the stance you want.
Need a Different Year?
1968 – 1972 Oldsmobile 442
1973 – 1977 Oldsmobile 442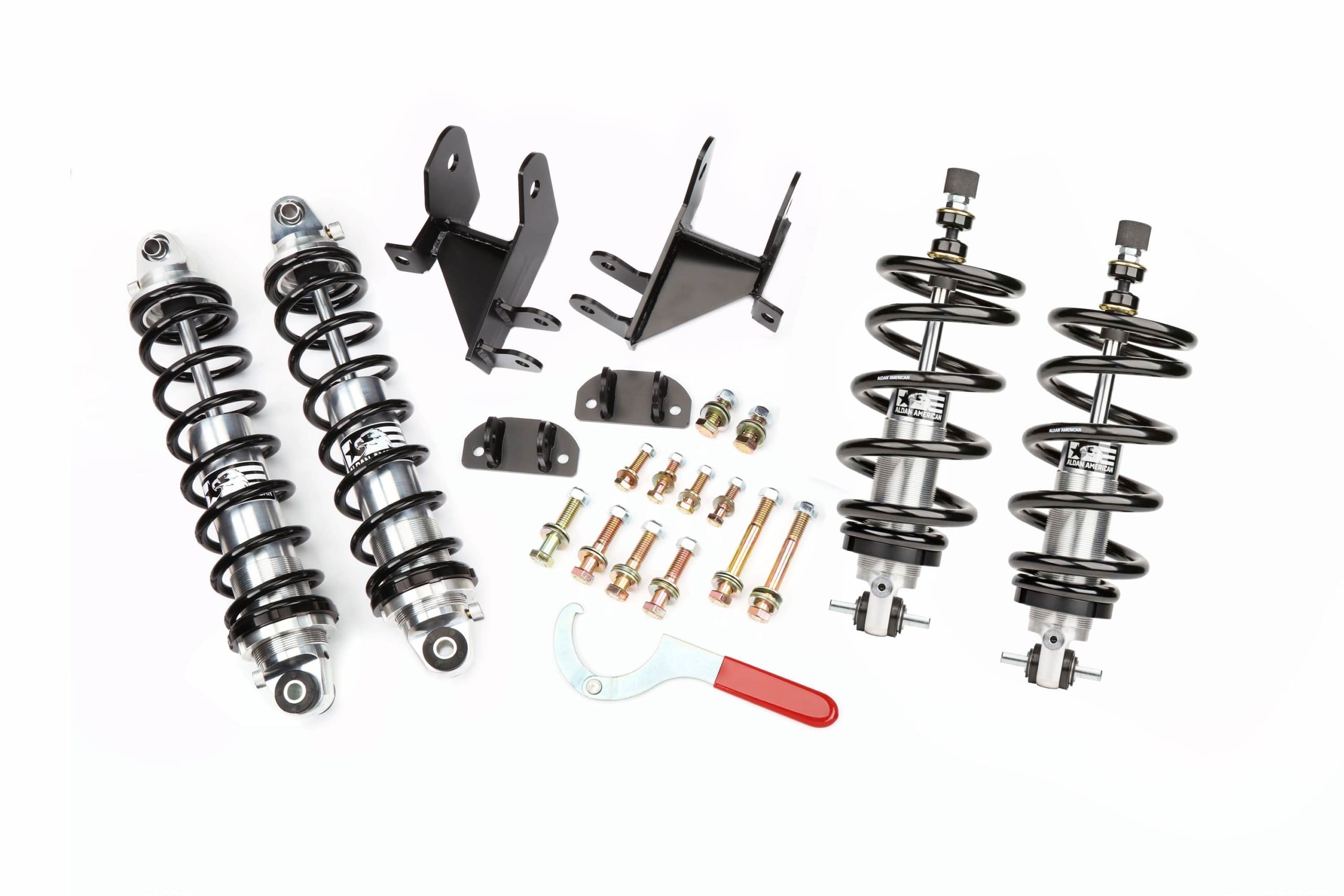 FEATURES & BENEFITS
Made in the U.S.A.
True Bolt-On Design
Properly Lowers 0.0-2.0" From Stock
Fully Adjustable – Improves Handling & Control
Smoother Ride on The Street
Easy To Tune With Turn Dial Adjustment – Set To Your Liking!
Aldan Shocks are Fully Rebuildable & Serviceable
Lifetime Warranty
Aldan American Oldsmobile 4-4-2 Suspension Upgrades
Throughout the first generation of the Olds muscle car, the car was badged and called out in product literature as 4-4-2.
For 1965, with the larger engine installed, the 4-4-2 name was now translated as 400 CID, a four-barrel Rochester Quadrajet and dual exhaust. The name would be further redefined in future models.
After GM banned multiple carbs on everything except the Corvette and Corvair, the W30 performance package switched to a four-barrel Quadrajet. Olds built 502 4-4-2 models with the W30 package to meet the NHRA's minimum production requirements.
HOW CAN WE HELP YOU?
Call us and we will help you find the right part for your vehicle.
ARTICLES & RESOURCES