Mustang Coilover Kits & Suspension Upgrades
1964 – 1973
Mustang Coilover Kits Small & Big Block Engine
Years: 1964, 1965, 1966, 1967, 1968, 1969, 1970, 1971, 1972, 1973.
Trim Styles: Shelby, GT, ST, Fastback, Boss 302, MACH 1, GT500, GT350, CS, Hurst, Bullitt
Aldan American's high-performance coilover-over conversion kits give your classic Mustang modern handling and significantly improved ride performance.
Our Mustang coilover kits are single or double adjustable and 100% bolt-on and go. The parts are specifically designed to match your Mustang's OEM spring and shock fitments for the Ford Mustang (1964 – 1973). No cutting or welding is necessary for this coilover installation. Aldan American's Mustang coilovers are also fully adjustable allowing lowering of 2 inches of ride-height. Order the package recommended for your specific vehicle in the search results below.
Need a Different Year?
1974 – 1978 Ford Mustang II
1979 – 1993 Ford Mustang
2015 – 2023 Ford Mustang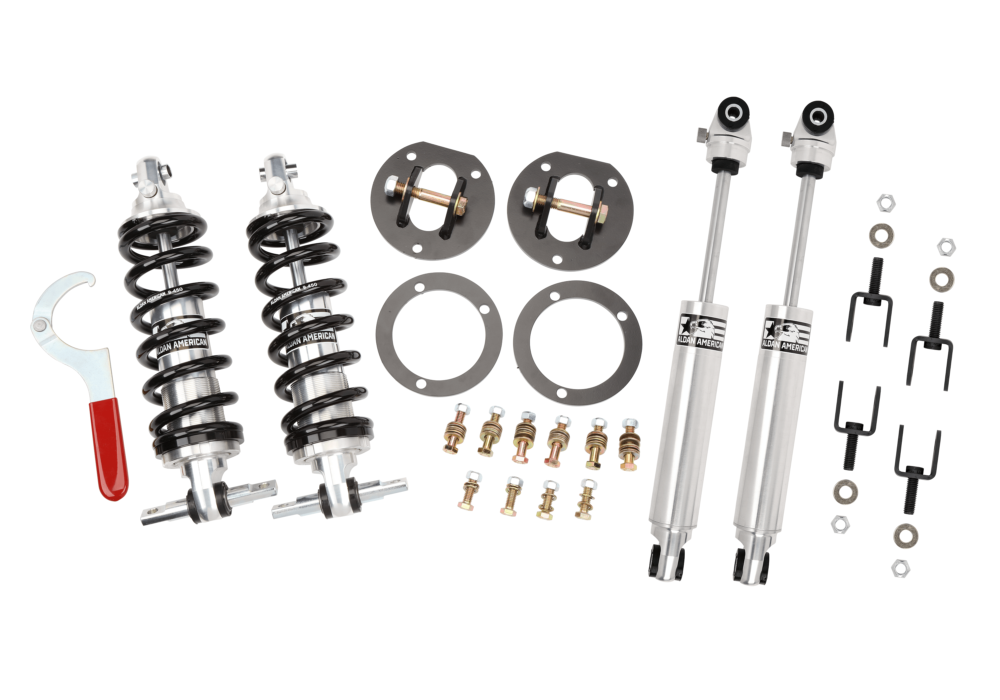 FEATURES & BENEFITS
Made in the U.S.A.
True Bolt-On Design
Properly Lowers 0.0-2.0" From Stock
Fully Adjustable – Improves Handling & Control
Smoother Ride on The Street
Easy To Tune With Turn Dial Adjustment – Set To Your Liking!
Aldan Shocks are Fully Rebuildable & Serviceable
Lifetime Warranty
HOW CAN WE HELP YOU?
Call us and we will help you find the right part for your vehicle.
Aldan American Mustang Suspension Upgrades
Aldan American coilover kits are suspension upgrades loaded with over 30 years American muscle car innovation and suspension performance knowledge a perfect fit for your prized classic car or truck.
These Mustang coilover conversion kits are designed to convert your stock front suspension to adjustable coilovers and rear suspension to adjustable shock absorbers. They truly are made with installation ease in mind – a full coilover kit can be installed on your Mustang in a matter of hours using standard garage tools, and they work with factory and aftermarket front control arms.
Aside from an easy install, the benefit of using factory shock mounting locations for an OEM-quality fit, is that it offers full shock adjustability along with a stance you can easily set to your liking. Our single and double adjustable coilovers offer a wide range of easy to tune shock capabilities for even greater performance on the street or at the track. Aldan coilovers allow you to properly lower your Mustang from stock height to 2.0" lowered, and our cold-wound linear springs are available for small block and big block applications. Street, autocross, and drag racing kits are also available.
Aldan American Classic Mustang coilovers offer adjustable shock tuning with the turn of a dial, for the handling and ride comfort you need and a superior driving experience over your Mustang's stock suspension.
Just need lowering springs? We got you!
Aldan American also supplies lowering springs to lower your ride for peak performance: Shop Lowering Springs Here.
ARTICLES & RESOURCES