Chevrolet El Camino Coilover Kits & Suspension Upgrades
1973-1977
Fourth-Gen Chevrolet El Camino Coilover Kit
Years: 1973-1977
The 1973-1977 Chevrolet El Camino was the largest version of the classic Chevy ute across its five generations. Much was shared with the revised Chevelle, though the El Camino rode on the more rugged station wagon frame. The suspension continued with coil springs at all four corners.
The SS trim option was initially available with a 350 CID V8 or a 454 CID big block; the 454 was discontinued after the 1975 model year and an optional manual transmission. A 400 CID V8 became available for the 1974 model year.
Depending on the year or engine in your fourth-gen El Camino, Aldan American offers front coilovers and rear shocks kits in single- and double-adjustable configurations. Springs rates are specific for small-block and big-block engines. These kits are 100% bolt-on, with no drilling, cutting or welding required for installation.
Aldan American adjustable shocks allow you to tune your El Camino's ride to your preferences, and with threaded spring perches, you can lower ride height by up to 2.0 inches at the front and rear.
Need a Different Year?
1964 – 1967 Chevrolet El Camino
1968 – 1972 Chevrolet El Camino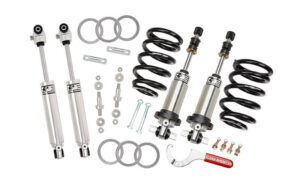 FEATURES & BENEFITS
Made in the U.S.A.
True Bolt-On Design
Properly Lowers 0.0-2.0" From Stock
Fully Adjustable – Improves Handling & Control
Smoother Ride on The Street
Easy To Tune With Turn Dial Adjustment – Set To Your Liking!
Aldan Shocks are Fully Rebuildable & Serviceable
Lifetime Warranty
Aldan American Chevrolet El Camino Suspension Upgrades
Each component of an Aldan American coilover suspension kit has been designed and developed with more than 40 years of experience in muscle car suspension. Aldan Shocks are fully rebuildable and serviceable and are covered by our lifetime Forever Guarantee.
Aldan coilovers are precision machined from lightweight, high-strength 6061-T6 aluminum billets to exacting specifications here in the US. Aldan shocks feature internally-vented oil chambers to protect seals from excess pressure and nitrogen gas charging for fade-free damping.
And when installing our double-adjustable coilover shocks, with 180 unique combinations of settings, you can custom-tune your El Camino's suspension for wherever you drive — from street to strip to autocross.
HOW CAN WE HELP YOU?
Call us and we will help you find the right part for your vehicle.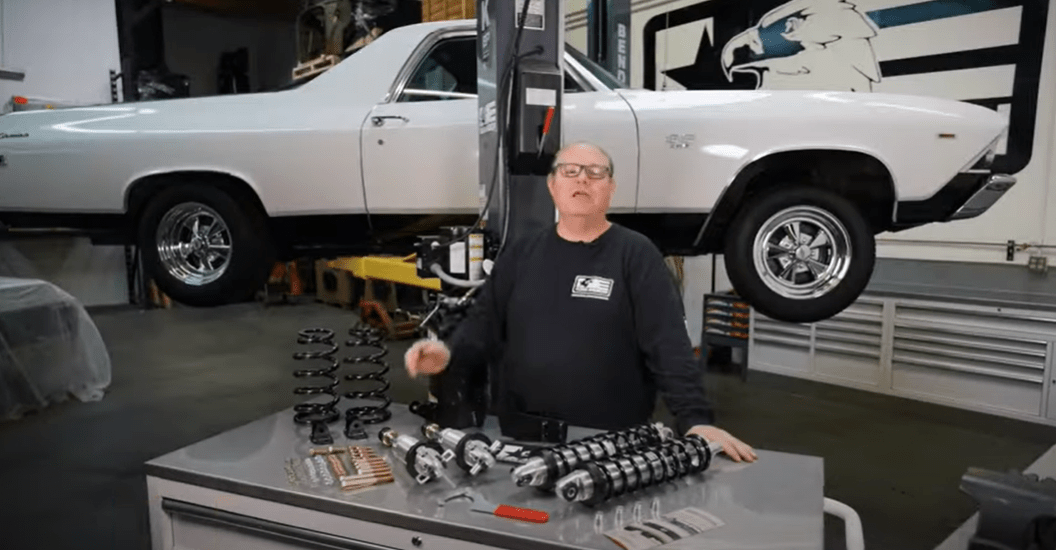 El Camino Coilover Conversion Kit
In this episode, Gary at Aldan American provides a walkthrough of Aldan's 1964-1972 Chevrolet El Camino, front and rear coilover conversion kit at the Aldan Shock Lab.
This 1969 El Camino SS 396 is equipped with Aldan American Phantom Series coilovers on both the front and the rear of the vehicle. With Aldan coilovers, you have a wide range of shock adjustability including damping adjustments (Single or Double Adjustable) for a smoother more consistent ride. Aldan coilovers are also ride height adjustable allowing you to raise or lower your stance.
ARTICLES & RESOURCES