Chevrolet El Camino Coilover Kits & Suspension Upgrades
1968-1972
Third-Gen Chevrolet El Camino Coilover Kit
Years: 1968-1972
Like its predecessor, the third-generation El Camino was built on the A-body platform with a full perimeter frame. An independent coil spring front suspension and rear four-link coil spring suspension make it an excellent basis for aftermarket upgrades.
With updated styling for the 1968 to 1972 model years, the El Camino also saw the introduction of the SS 396 model, set apart by its black grille and lower body paint, chrome lower body moldings, power bulge hood, unique wheels, and SS396 emblems, along with its big block powerplant.
An Aldan American coilover suspension package is an excellent upgrade for your third-gen Chevy El Camino. Kits can be purchased with or without upgraded tubular control arms that improve handling and response. The kits are 100% bolt-on with no cutting, drilling or welding required for an easy installation.
With Aldan American adjustable spring perches, you can lower the front ride height of your 1968-1972 El Camino by up to 2.0-inches in the front and 3.0-inches in the rear. And with our single- and double-adjustable coilover shocks, you can custom-tune the suspension to match your driving style.
Need a Different Year?
1964 – 1967 Chevrolet El Camino
1973 – 1977 Chevrolet El Camino
1978 – 1988 Chevrolet El Camino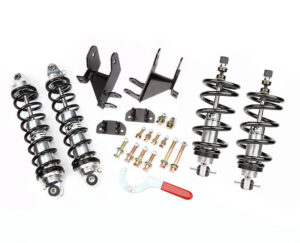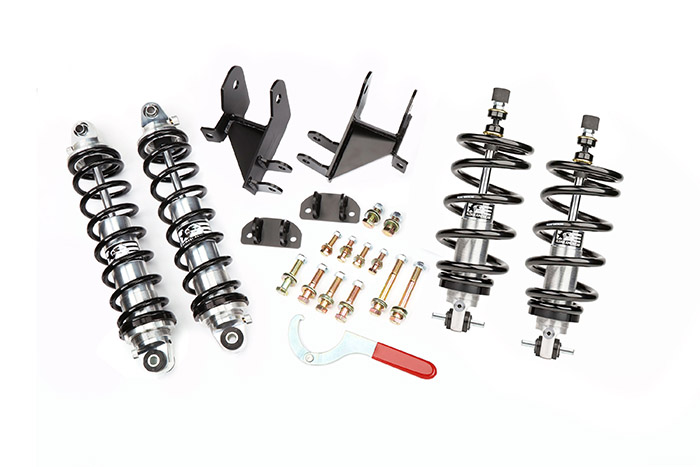 FEATURES & BENEFITS
Made in the U.S.A.
True Bolt-On Design
Properly Lowers 0.0-2.0" From Stock
Fully Adjustable – Improves Handling & Control
Smoother Ride on The Street
Easy To Tune With Turn Dial Adjustment – Set To Your Liking!
Aldan Shocks are Fully Rebuildable & Serviceable
Lifetime Warranty
Aldan American Chevrolet El Camino Suspension Upgrades
Our more than 40 years of experience in muscle car suspension goes into the design and manufacturing of all Aldan American coilover suspension components.
Manufactured in the U.S. from lightweight, high-strength 6061-T6 billet aluminum, Aldan shocks feature internally-vented oil chambers to protect seals and nitrogen gas charging for fade-free damping.
And with our double-adjustable coilover shocks, with 180 unique combinations of settings, you can custom-tune your Firebird's suspension for street, strip or autocross.
HOW CAN WE HELP YOU?
Call us and we will help you find the right part for your vehicle.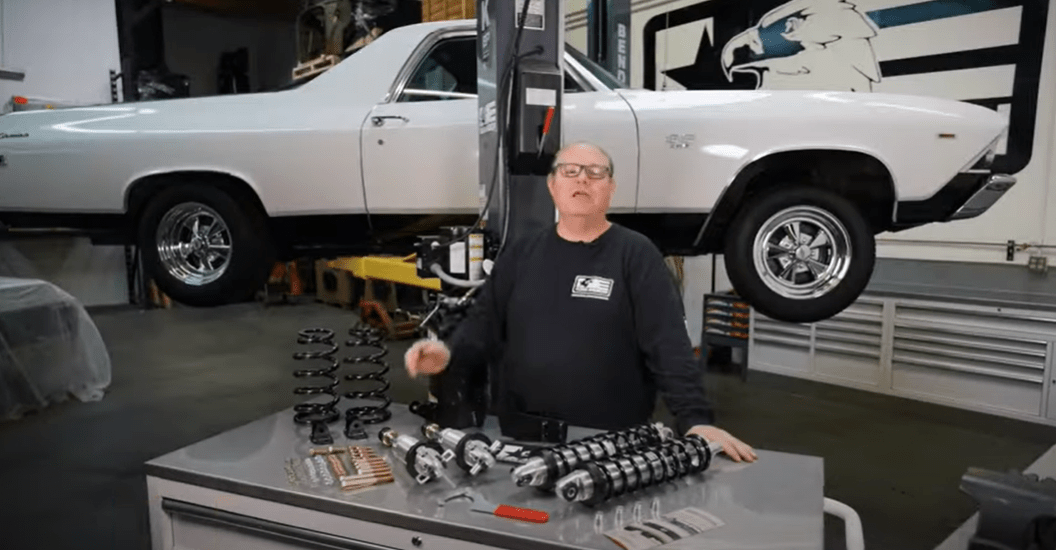 El Camino Coilover Conversion Kit
In this episode, Gary at Aldan American provides a walkthrough of Aldan's 1964-1972 Chevrolet El Camino, front and rear coilover conversion kit at the Aldan Shock Lab.
This 1969 El Camino SS 396 is equipped with Aldan American Phantom Series coilovers on both the front and the rear of the vehicle. With Aldan coilovers, you have a wide range of shock adjustability including damping adjustments (Single or Double Adjustable) for a smoother more consistent ride. Aldan coilovers are also ride height adjustable allowing you to raise or lower your stance.
ARTICLES & RESOURCES