Chevrolet Impala Coilover Kits & Suspension Upgrades
1977-1996
Second-Gen Chevrolet Impala Coilover Kit
Years: 1977-1996
In 1977, the Impala featured new semi-fastback styling, complete with a stylish Endura front bumper. While the overall length and wheelbase shrunk, weight went up. The Impala continued to ride on a four-wheel coil spring suspension. While enthusiasts loved Impala's performance, handling left room for improvement. For 1970, Chevrolet changed spring rates and shock absorber settings to reduce body lean in corners and improve handling.
Upgrade your 1977-1996 Chevrolet Impala to a four-corner coilover suspension from Aldan America. There are separate front and rear adjustable coilover conversions available that you can order together or separately. Check out the ultimate suspension upgrade that includes high-strength tubular control arms with revised geometry to improve handling and control.
Each is a 100% bolt-on kit and does not require any cutting or welding to install. Plus, with adjustable spring perches, you can lower the ride height by up to 2.0-inches front and 3.0-inches rear to get the stance you want.
Need a Different Year?
1958 – 1970 Chevrolet Impala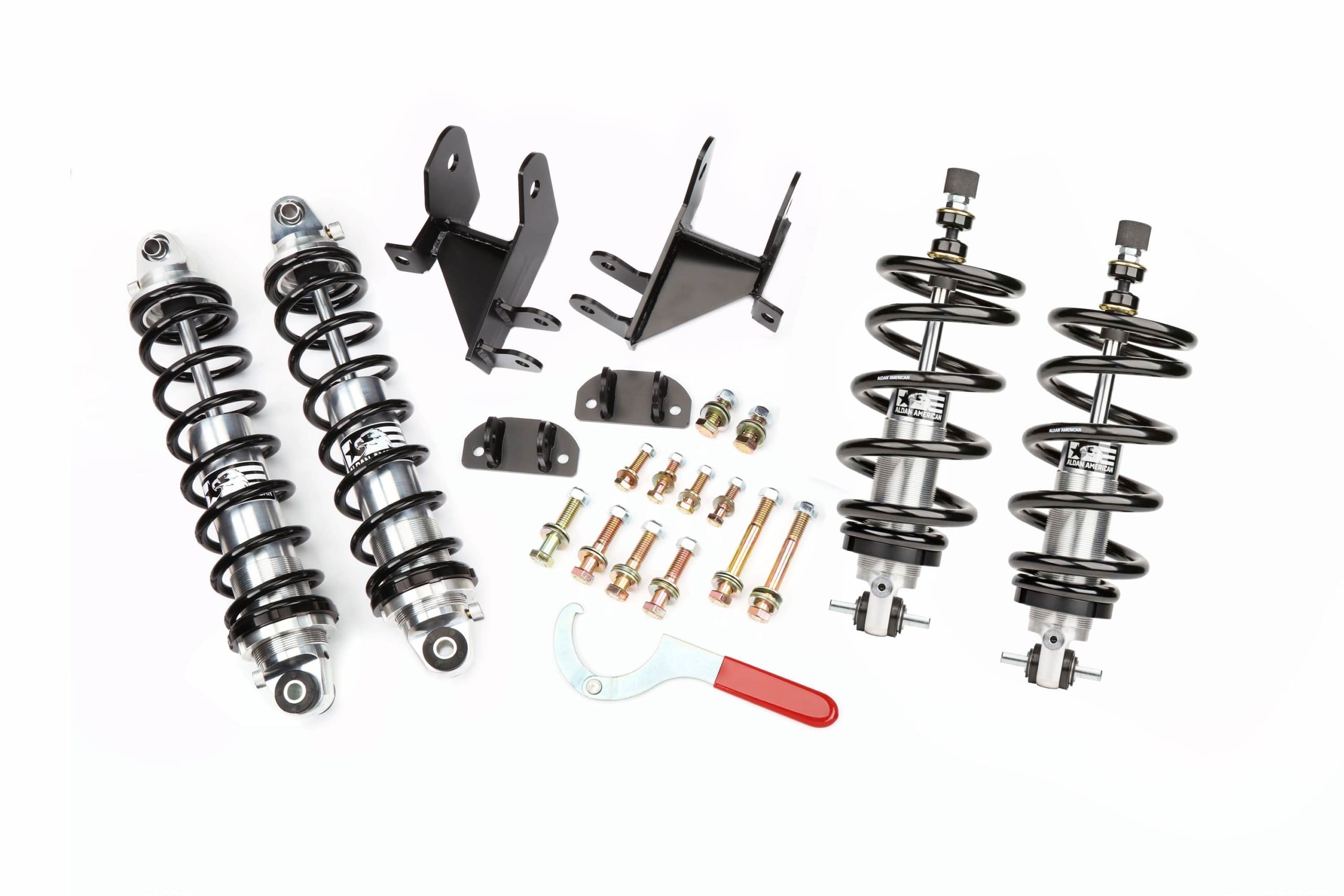 FEATURES & BENEFITS
Made in the U.S.A.
True Bolt-On Design
Properly Lowers 0.0-2.0" From Stock
Fully Adjustable – Improves Handling & Control
Smoother Ride on The Street
Easy To Tune With Turn Dial Adjustment – Set To Your Liking!
Aldan Shocks are Fully Rebuildable & Serviceable
Lifetime Warranty
Aldan American Chevrolet Impala Suspension Upgrades
Whether it's a sixth- or seventh-generation Chevrolet Impala you're updating, an Aldan American coilover suspension package is an unbeatable upgrade. Each component has been developed fully utilizing our more than 40 years of experience in muscle car suspension.
Aldan American coilover conversion kits are made in the USA and designed to bolt onto OEM mounting locations. The coilover conversion kit allows you to lower the front ride height of your 1977-1996 Impala by up to 2.0-inches in the front.
HOW CAN WE HELP YOU?
Call us and we will help you find the right part for your vehicle.
ARTICLES & RESOURCES