Buick Skylark Grand Sport Coilover Kits & Suspension Upgrades
Buick Skylark Grand Sport Coilover Kit
With the success of the upscale Skylark option on the previous generation Buick Special model, for 1964, the Skylark became its own model. The standard engine was a 155 HP V6, with Buick's 300 CID V8 as an option. Both engines shared a common architecture to simplify the machining.
With the success of the Pontiac GTO, the Grand Sport package was added to the line, consisting of Buick's 401-cubic-inch-V8 that developed 325 HP. Interestingly, the big motor was listed in advertising materials as 400 CID as a workaround to General Motors' corporate limit of 400 CID in intermediate category car models.
If it's a 1964-1967 Buick Skylark Grand Sport you're updating, an Aldan American coilover suspension package is an ideal upgrade. Choose from coilovers alone or a kit with new tubular control arms that improve handling and response. The kits are 100% bolt-on with no cutting, drilling or welding required for an easy installation.
With Aldan American adjustable spring perches, you can lower the ride height of your 1964-1967 Skylark by up to 2.0-inches. And with our included adjustable coilover shocks, you can tune the suspension to match your driving style.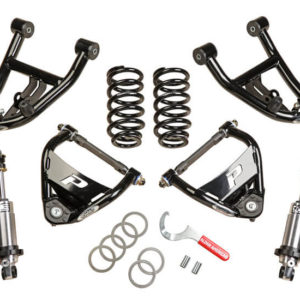 FEATURES & BENEFITS
Made in the U.S.A.
True Bolt-On Design
Properly Lowers 0.0-2.0" From Stock
Fully Adjustable – Improves Handling & Control
Smoother Ride on The Street
Easy To Tune With Turn Dial Adjustment – Set To Your Liking!
Aldan Shocks are Fully Rebuildable & Serviceable
Lifetime Warranty
Aldan American Buick Skylark Grand Sport Suspension Upgrades
Each Aldan American suspension component has been designed and developed with more than 40 years of experience in muscle car suspension. The kits are 100% bolt-on with no cutting, drilling or welding required for an easy installation.
Aldan American coilover conversion kits are made in the USA and are designed to bolt onto OEM mounting locations. The coilover conversion kit allows you to lower the front ride height of your 1964-1967 Skylark GS by up to 2.0-inches.
And with our double-adjustable RCX coilover shocks, with 180 unique combinations of settings, you can custom-tune your GS suspension for wherever you drive — from street to strip to autocross.
HOW CAN WE HELP YOU?
Call us and we will help you find the right part for your vehicle.
VEHICLE SPOTLIGHT | ACES BATTLE LARK

Jason from ACES Fuel Injection came down to the Aldan Shock Lab and they brought the ACES Battle Lark. Checkout this video where the 64 Skylark R&D car, the @battle_lark, finally got dialed in with coil over goodness! In this video Gary and the team install our Aldan American Road Comp Series front and rear coilovers.
ARTICLES & RESOURCES