Oldsmobile Cutlass Coilover Kits & Suspension Upgrades
What can be better than cruising the streets in a classic Olds Cutlass? Cruising your Cutlass with modern day suspension. If you're looking for your best ride yet, check out our full line of suspension performance parts for your classic Olds.
Adding adjustable coilovers or tunable shocks will offer a night and day level of performance improvement to your classic muscle cars' suspension. More responsive, smoother transitions and improved cornering ability are some of the benefits you'll see with Aldan's.
Whether you're cruising or racing, we have a full line of suspension upgrades for your Oldsmobile Cutlass. Made in the U.S.A.
Need a Different Year?
1964 – 1967 Oldsmobile 442
1973 – 1977 Oldsmobile 442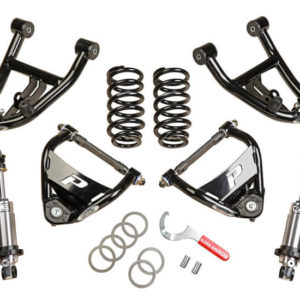 FEATURES & BENEFITS
Made in the U.S.A.
True Bolt-On Design
Properly Lowers 0.0-2.0" From Stock
Fully Adjustable – Improves Handling & Control
Smoother Ride on The Street
Easy To Tune With Turn Dial Adjustment – Set To Your Liking!
Aldan Shocks are Fully Rebuildable & Serviceable
Lifetime Warranty
HOW CAN WE HELP YOU?
Call us and we will help you find the right part for your vehicle.
ARTICLES & RESOURCES