Pontiac Grand Prix Coilover Kits & Suspension Upgrades
1969-1972
Second-Gen Pontiac Grand Prix Coilover Kit
Years: 1969-1972
Inspired by the classic luxury of pre-WWII Duesenbergs, John DeLorean, then head at Pontiac, upgraded and moved the Grand Prix to the smaller G-Body platform for 1969- 1972. He even named trim packages J and SJ after the Duesenberg models.
The G-body platform allowed the cabin to be shifted rearward, creating the longest hood in Pontiac history at around six feet long.
Suspension was by coil springs front and rear with independent front suspension and trailing link rear suspension. This design allows for easy upgrades to improve handling and response.
An Aldan American bolt-on coilover conversion package is ideal for the 1969-1972 Pontiac Grand Prix you're updating. Choose from front coilovers alone or a kit with new tubular control arms that improve handling and response.
And with our single or double adjustable front coilovers and single adjustable rear shocks, you can tune the suspension on your Grand Prix to match your driving style.
Need a Different Year?
1962 – 1968 Pontiac Grand Prix
1973 – 1977 Pontiac Grand Prix
1978 – 1987 Pontiac Grand Prix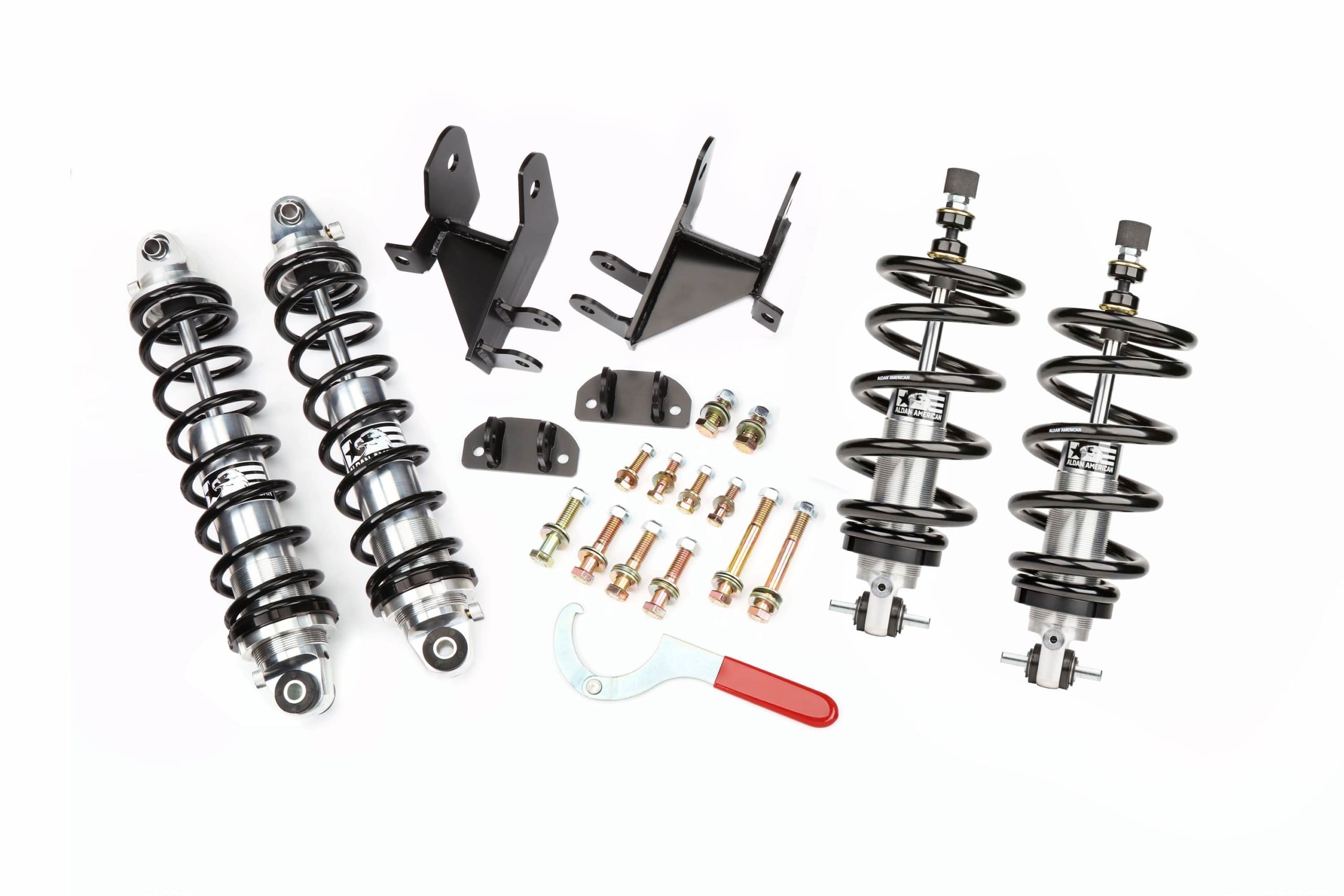 FEATURES & BENEFITS
Made in the U.S.A.
True Bolt-On Design
Properly Lowers 0.0-2.0" From Stock
Fully Adjustable – Improves Handling & Control
Smoother Ride on The Street
Easy To Tune With Turn Dial Adjustment – Set To Your Liking!
Aldan Shocks are Fully Rebuildable & Serviceable
Lifetime Warranty
Aldan American Pontiac Grand Prix Suspension Upgrades
Every component of an Aldan American coilover suspension kit has been designed and developed fully utilizing our more than 40 years of experience in muscle car suspension. Our kits are 100% bolt-on with no cutting, drilling or welding required for an easy installation.
Aldan coilovers are manufactured in the U.S. from lightweight, high-strength 6061-T6 billet aluminum, are fully serviceable and rebuildable, and come with Aldan's Forever Guarantee. This aircraft-grade alloy is lighter and stronger, allowing Aldan American shocks to run cooler than steel-body shocks.
Our double-adjustable coilover shocks offer 180 unique combinations of settings, so you can custom-tune your Grand Prix's suspension for wherever you drive — from street to strip to autocross.
HOW CAN WE HELP YOU?
Call us and we will help you find the right part for your vehicle.
ARTICLES & RESOURCES