"Little GTO, You're Really Looking Fine!"
May 27, 2021
A closer look at the Pontiac GTO, and the song "G.T.O." by Ronny and the Daytonas.
Cars, girls and surf. So many wonderful choices for a guy back in the early '60s (before his choices became sex, drugs and rock 'n' roll). There were also numerous songs about car culture, including many that referred to specific car types: Chuck Berry started it off early with "Jaguar and Thunderbird," in which he told his car to Keep cool, little Thunderbird Ford. The Beach Boys sang about a Chevy Impala in "409," and a Corvette Sting Ray vs. a Dodge Charger 413 in "Shut Down." The Rip Chords gave us a Shelby Mustang in "Hey Little Cobra," a battle against a Sting Ray. Yet another Sting Ray appeared on Sunset Boulevard when racing a Jaguar XKE in Jan and Dean's "Dead Man's Curve." And Commander Cody gave us his rendition of "Hot Rod Lincoln."
But with these six words…
Little GTO…you're really looking fine
…Ronny and the Daytonas threw down another gauntlet in the car song wars of the 1960s. This time, the star was the first-ever 1964 Pontiac GTO, which Ronny Dayton (aka John "Bucky" Wilkin) must have fallen in love with immediately because he wrote and recorded "G.T.O." that same year.
Inspired by the Ferrari GTO—"Gran Turismo Omologato," translated as Grand Touring Homologated—John DeLorean (yes, that one) and two others decided to convert the Pontiac Tempest deluxe LeMans model into a sportier car. So, they created the GTO as an optional package for 1964 and 1965, available in a hardtop, coupé and—what Ronny was driving in the song—a convertible.
The GTO Ronny sings about was the deluxe optional package:
Three deuces and a four-speed, and a three-eighty-nine
The "three deuces" were three double-barrel carburetors, with a 4-speed "Tri-Power" 389-cu.-in. V8 engine.
Listen to her tachin' up now, listen to her whine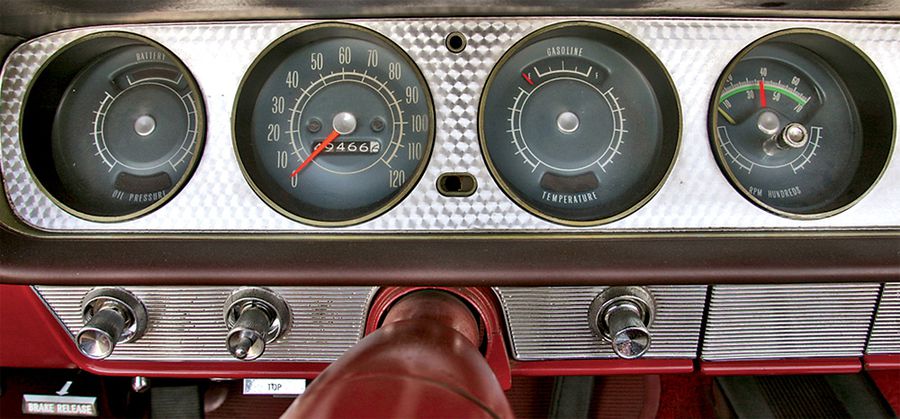 …because the dash sported a tachometer on the right side of the dash, and the GTO had 325 horses under the hood. No wonder he told his car,
C'mon and turn it on, wind it up, blow it out, GTO
(Sing along now:)
Yeah, yeah, little GTO….
The original GTO models went through four generations: 1964–1967, 1968–1972, 1973 and 1974. With each, the "longer, lower, wider" Pontiacs became faster and more refined.
You oughta see her on a road course or a quarter mile
…he boasts, because the GTO commanded the straightaway at 0-to-60 mph in 6.6 seconds, as well as the quarter-mile at 99 mph in 14.8 seconds.
This little modified ponton* has got plenty of style
Indeed, a beautiful car.
She beats the gassers and the rail jobs, really drives 'em wild
"Gassers" were a type of top-heavy, high-front, closed-bodied hot rod, as opposed to the "rail jobs," which were open, railed dragsters. Considering the fact that gassers and rail jobs were designed specifically for racing, it definitely would drive 'em wild to find a passenger vehicle passing them on the track.
C'mon and turn it on, wind it up, blow it out, GTO
Yeah, yeah, little GTO…
Gonna save all my money
And buy a GTO (turnin' it on, blowin' it out)
At $4,500 for the optional 4-speed manual transmission version, Ronny truly would have to save all his money. With a 2021 equivalent value of over $38,000, the GTO might have been in reach if he had held down jobs at the gas station AND the local burger joint. Perhaps a paper route thrown in for good measure.
Get a helmet and a roll bar
And I'll be ready to go (turnin' it on, blowin' it out)
Verification that this GTO was a convertible. In 1964, road courses were sometimes unpaved and quarter-mile tracks could be rough, so the helmet and roll bar were a sound way to go. A seat belt wouldn't have been such a bad idea either.
Take it out to Pomona
Pomona Raceway (dragstrip in Pomona, California), which features a quarter-mile track, has been the site of the NHRA Winternationals since it opened in 1961, as well as the NHRA Finals since 1984. In 1952, a couple of Pomona police officers—with the help of city officials—convinced Los Angeles County to lease them a parking lot that was part of the L.A. Fairgrounds.
Their intent was to get hot-rodding teens off the streets and onto an enclosed track where everyone would be safer. Statistics eventually proved that supervised races on this track dramatically reduced deaths from street-racing accidents. And that was the humble beginning of Pomona Raceway, now known as Auto Club Raceway in Pomona.
And let 'em know, yeah yeah (turnin' it on, blowin' it out)
That I'm the coolest thing around
Little buddy, gonna shut you down
With power steering unavailable on the GTO, the quarter mile might have proven to be the better choice as turns on a road course could have proved a bit difficult. Still, if he could eventually afford to buy this Pontiac, he had every right to boast and brag about what it could do on the track…
When I turn it on, wind it up, blow it out, GTO
Yeah, yeah, little GTO…
Wah-wah, little GTO
Final thoughts.
The official title of the song is "G.T.O."—spelled out just like that. It is not "Little GTO." That's a trivia answer for you that might come in handy someday.
*There is a never-ending argument about this lyric. Many insist the word is "Pon-Pon," an affectionate term for a Pontiac. A "ponton" (from "pontoon") was a car body style whose popularity waned in the 1960s. Grab some earbuds, play the song and you decide.
SOURCES: "Wide-Open Muscle: "The Rarest Muscle Car Convertibles": Leffingwell and Loeser. Crestline, 2016; hagerty.com/media/buying-and-selling/gto-buyers-guide;; en.wikipedia.org/wiki/Pontiac_GTO; en.wikipedia.org/wiki/Auto_Club_Raceway_at_Pomona; lyrics.com/G.T.O.