GM B-Body Coilover Kits & Suspension Upgrades
1958-1996
GM B-Body Coilover Kits
Models: Buick Le Sabre and Wildcat, Chevrolet Impala, Biscayne and Caprice, Pontiac Bonneville and Catalina, Oldsmobile 88 models
Suspension makes a huge difference to how your 1958-1996 GM full size muscle car feels when you take it out on the road. Larger than your standard muscle car, 58-96 GM full size cars like the Impala, Biscayne, Caprice and Boneville are perfect for showing and cruising. Aldan American brings over three decades of innovation and suspension performance knowledge to the 1958-1996 GM full size and GM B-Body muscle car chassis.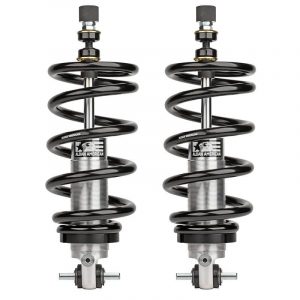 FEATURES & BENEFITS
Made in the U.S.A.
True Bolt-On Design
Properly Lowers 0.0-2.0" From Stock
Fully Adjustable – Improves Handling & Control
Smoother Ride on The Street
Easy To Tune With Turn Dial Adjustment – Set To Your Liking!
Aldan Shocks are Fully Rebuildable & Serviceable
Lifetime Warranty
Aldan American GM B-Body Suspension Upgrades
Aldan American B-Body coilover kits offer the choice of coilovers alone or a kit with rear shock absorbers. The coilovers and shocks are 100% bolt-on, with no cutting, drilling or welding required for an easy installation.
All Aldan American coilover suspension kit components have been designed, developed and manufactured in the U.S. using our more than 40 years of experience in muscle car suspension.
Aldan coilovers are manufactured from lightweight, high-strength 6061-T6 billet aluminum CNC machined to exacting specifications for low maintenance and long life. This aircraft-grade alloy is lighter, stronger and runs cooler than steel-body shocks. Every Aldan American shock is fully serviceable and rebuildable and comes with Aldan's Forever Guarantee.
With Aldan American adjustable spring perches, you can lower the ride height of your 1958-1996 GM B-Body cars and utilities by up to 2.0 inches. And with our single- or double-adjustable coilover shocks, you can tune the suspension to match your driving style.
HOW CAN WE HELP YOU?
Call us and we will help you find the right part for your vehicle.
ARTICLES & RESOURCES