Chevrolet Bel Air Coilover Kits & Suspension Upgrades
1955-1957
Chevrolet Bel Air, 210, 150, Nomad Coilover Kit
Years: 1955-1957
While the Tri-Five Chevys of 1955, 1956 and 1957 are revered for their magnificent styling and the introduction of the legendary small-block, there are also several significant upgrades to the chassis.
The frame was all-new, with box sections that varied in size and shape according to placement, while a new structural arch (plenum) increased torsional rigidity. Gone was the bolt-on front suspension carrier, which was now formed as part of the frame. With a switch to ball joints, engineers designed anti-dive properties into the independent front suspension. At the rear, leaf springs mounted outside the frame rails increased stability.
Whether it's a 1955-1957 Chevy Bel Air, 210, 150 or Nomad you're updating, an Aldan American coilover suspension package is an excellent upgrade. For your Tri-Five, you can choose from front coilovers alone or as a kit with rear shock absorbers. The kits are 100% bolt-on with no cutting, drilling or welding required for an easy installation.
With Aldan American adjustable spring perches, you can lower the front ride height of your 1955-1957 Tri-Five by up to 2.0-inches. And with our single- and double-adjustable front coilover shocks, you can tune the suspension to match your driving style.
Need a Different Year?
1958 – 1970 Chevy Bel Air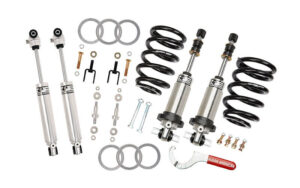 FEATURES & BENEFITS
Made in the U.S.A.
True Bolt-On Design
Properly Lowers 0.0-2.0" From Stock
Fully Adjustable – Improves Handling & Control
Smoother Ride on The Street
Easy To Tune With Turn Dial Adjustment – Set To Your Liking!
Aldan Shocks are Fully Rebuildable & Serviceable
Lifetime Warranty
Aldan American Chevrolet Bel Air, 210, 150, Nomad Suspension Upgrades
All Aldan American coilover suspension kit components have been designed, developed and manufactured in the U.S. using our more than 40 years of experience in muscle car suspension.
Aldan coilovers start with lightweight, high-strength 6061-T6 billet aluminum to exacting specifications. Aldan shocks feature internally-vented oil chambers to protect seals from excess pressure and nitrogen gas charging for fade-free damping.
And with our double-adjustable coilover shocks, with 180 unique combinations of settings, you can custom-tune your Bel Air, 210, 150, or Nomad's suspension for wherever you drive — from street to strip to autocross.
HOW CAN WE HELP YOU?
Call us and we will help you find the right part for your vehicle.
ARTICLES & RESOURCES