Chevrolet Chevelle Coilover Kits & Suspension Upgrades
1968-1972
Second-Gen Chevrolet Chevelle Coilover Kit
Years: 1968-1972
The 1968-1972 Chevelle line-up featured a shorter wheelbase versus prior years. Chevelles of those model years utilized a 112-inch wheelbase and full-perimeter frame with open side rails, while the frame of convertibles was fully boxed. The suspension was by coil springs front and rear. Several suspension packages were available to order. The F40 added stiffer springs and shocks, while the F41 upgrade included a 1.125-inch front and .875-inch rear anti-roll bar and stiffer bushings.
Regardless of which suspension package was fitted to the 1968-1972 Chevrolet Chevelle, an Aldan American coilover suspension package is an ideal upgrade. The kits are 100% bolt-on with no cutting, drilling or welding required for an easy installation.
With Aldan American adjustable spring perches, you can lower the ride height of your 1968-1972 Chevelle by up to 2.0-inches. And with our included adjustable coilover shocks, you can tune the suspension to match your driving style.
Need a Different Year?
1964 -1967 Chevrolet Chevelle
1973 – 1977 Chevrolet Chevelle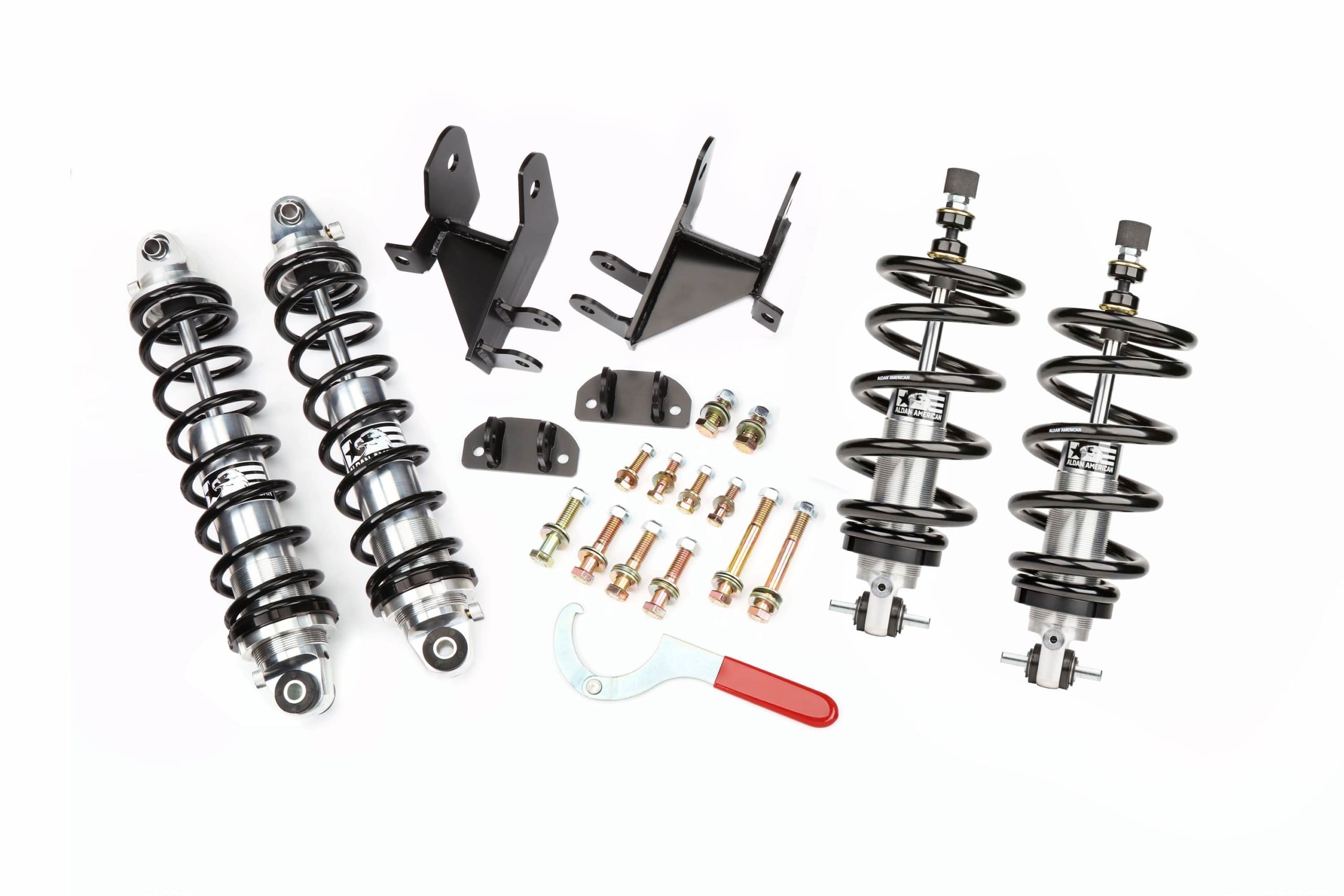 FEATURES & BENEFITS
Made in the U.S.A.
True Bolt-On Design
Properly Lowers 0.0-2.0" From Stock
Fully Adjustable – Improves Handling & Control
Smoother Ride on The Street
Easy To Tune With Turn Dial Adjustment – Set To Your Liking!
Aldan Shocks are Fully Rebuildable & Serviceable
Lifetime Warranty
Aldan American Chevrolet Chevelle Suspension Upgrades
Among the several plants at which Chevelles were assembled was the Fremont, CA GM factory, which no longer produces GM cars or trucks. It's currently the main US production facility of Tesla.
In 1971 the muscle car era was coming to an end. The Z25 1969-1970 SS396 package was dropped, and the Z15 package (SS454 for 1970 only) was reduced from a performance upgrade to a trim package option.
1969 was the only year the Chevelle 396 SS was available on a post-coupe (b-pillar). It was created to compete with the less-expensive Plymouth Road Runner, though only 1400 were sold in that configuration.
HOW CAN WE HELP YOU?
Call us and we will help you find the right part for your vehicle.
ARTICLES & RESOURCES