Chevrolet Chevelle Coilover Kits & Suspension Upgrades
1964-1967
First-Gen Chevrolet Chevelle Coilover Kit
Years: 1964-1967
For the 1964 model year, GM developed a new A-body platform for a new line of intermediate-sized cars. Originally to be based on the Chevy II unibody. Instead, the decision was made to develop a new A-platform. The A-body platform was versatile and invited modifications and upgrades, both by Chevrolet and by the automotive aftermarket.
A fantastic upgrade to your 1964-1967 is a four-corner coilover suspension from Aldan American. There are separate front and rear adjustable coilover conversions available, order together or separately.
Each is a 100% bolt-on kit and does not require any cutting or welding to install. Plus, with adjustable spring retainers, you can lower ride height by up to 2.0-inches to get the stance you want.
Need a Different Year?
1968 – 1972 Chevrolet Chevelle
1973 – 1977 Chevrolet Chevelle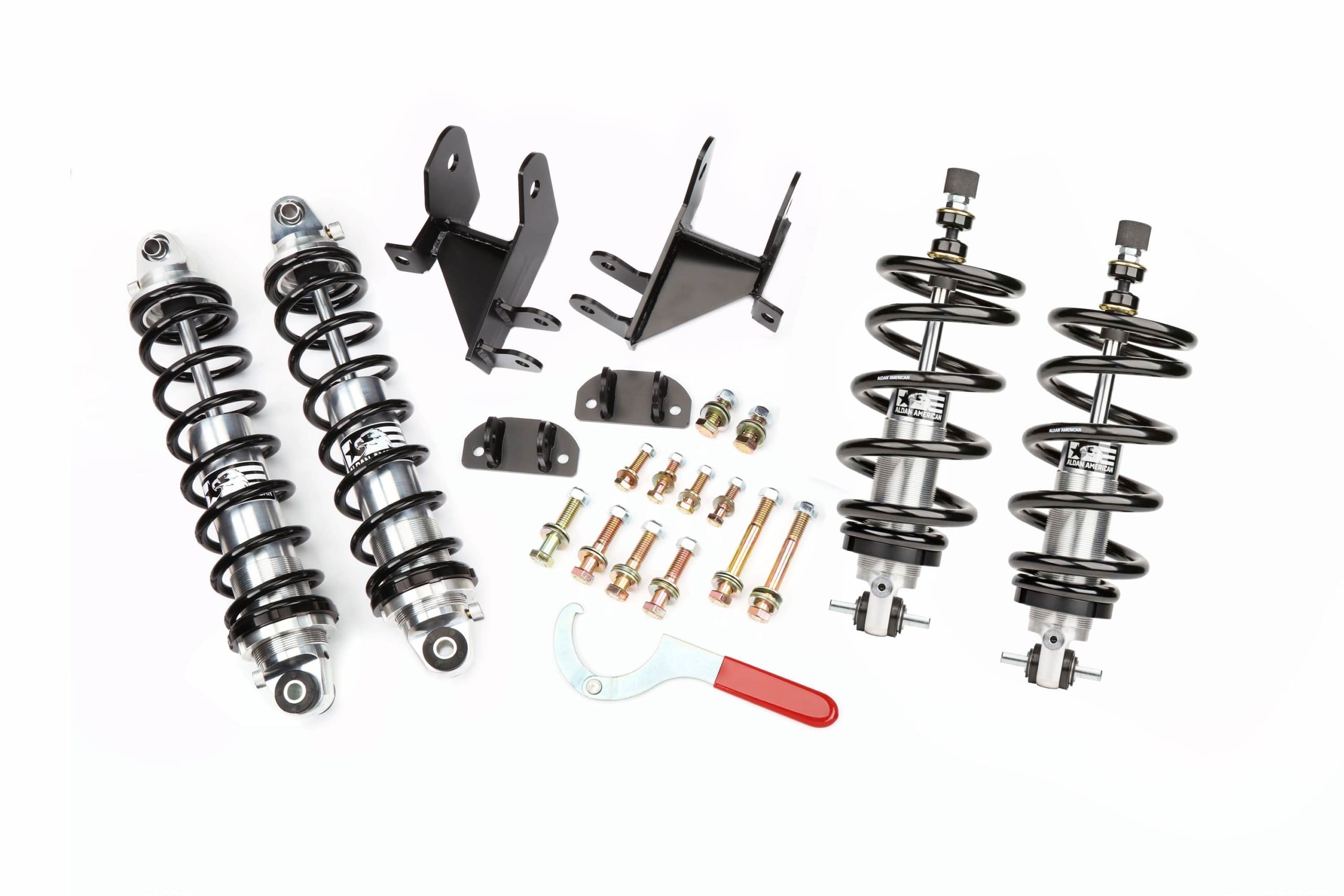 FEATURES & BENEFITS
Made in the U.S.A.
True Bolt-On Design
Properly Lowers 0.0-2.0" From Stock
Fully Adjustable – Improves Handling & Control
Smoother Ride on The Street
Easy To Tune With Turn Dial Adjustment – Set To Your Liking!
Aldan Shocks are Fully Rebuildable & Serviceable
Lifetime Warranty
Aldan American Chevrolet Chevelle Suspension Upgrades
With the success of compact cars like the Ford Falcon and Chevy II, GM recognized the need for mid-size cars to fill the gap between its entry-level models and full-size cars. Other division with GM would develop their versions, but for Chevy, it would be the Chevelle. Chevrolet offered the 1964-1967 Chevelle in hardtop, sedan, and station wagons. The two-door Chevelle station wagon became the basis for the first generation of El Camino.
Aldan's Road Comp Series, single adjustable Chevelle coilovers deliver superior handling and ride quality for a drastic improvement over stock suspension. For even more adjustment, see our RCX Double Adjustable coilover kits. Our high tensile coil-springs are designed to fit directly into the factory's upper spring pockets. Ride-height adjustment features allow you to lower the stance of your ride from stock, down to 2.0" lowered – making them a great choice for cruising, street, autocross or racing applications.
HOW CAN WE HELP YOU?
Call us and we will help you find the right part for your vehicle.
ARTICLES & RESOURCES