Chevrolet Chevelle Coilover Kits & Suspension Upgrades
1964-1967
First-Gen Chevrolet Chevelle Coilover Kit
Years: 1964-1967
For the 1964 model year, GM developed a new A-body platform for a new line of intermediate-sized cars. Originally to be based on the Chevy II unibody. Instead, the decision was made to develop a new A-platform. The A-body platform was versatile and invited modifications and upgrades, both by Chevrolet and by the automotive aftermarket.
A fantastic upgrade to your 1964-1967 is a four-corner coilover suspension from Aldan American. There are separate front and rear adjustable coilover conversions available, order together or separately.
Each is a 100% bolt-on kit and does not require any cutting or welding to install. Plus, with adjustable spring retainers, you can lower ride height by up to 2.0-inches to get the stance you want.
Need a Different Year?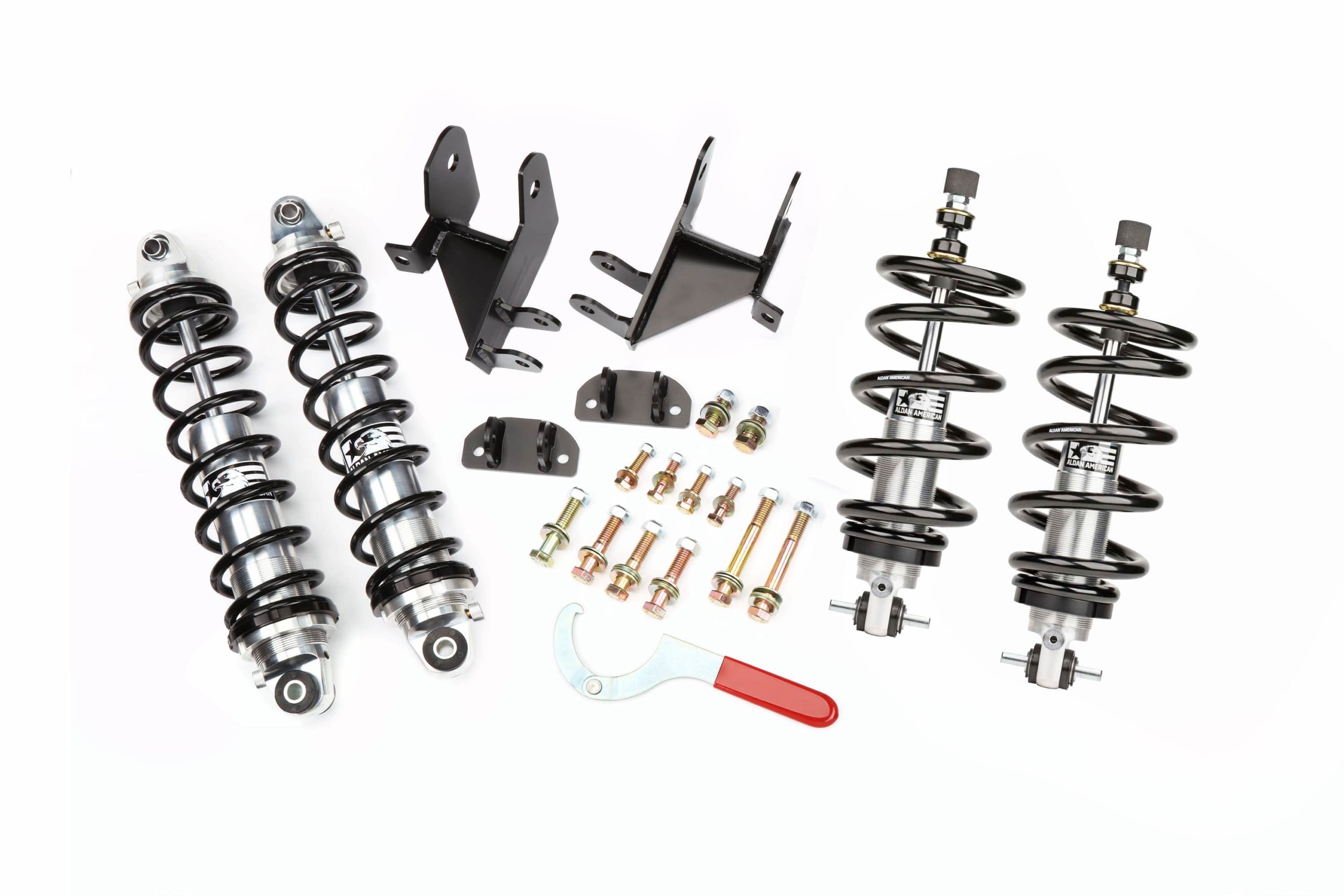 FEATURES & BENEFITS
Made in the U.S.A.
True Bolt-On Design
Properly Lowers 0.0-2.0" From Stock
Fully Adjustable – Improves Handling & Control
Smoother Ride on The Street
Easy To Tune With Turn Dial Adjustment – Set To Your Liking!
Aldan Shocks are Fully Rebuildable & Serviceable
Lifetime Warranty
Aldan American Chevrolet Chevelle Suspension Upgrades
With the success of compact cars like the Ford Falcon and Chevy II, GM recognized the need for mid-size cars to fill the gap between its entry-level models and full-size cars. Other division with GM would develop their versions, but for Chevy, it would be the Chevelle. Chevrolet offered the 1964-1967 Chevelle in hardtop, sedan, and station wagons. The two-door Chevelle station wagon became the basis for the first generation of El Camino.
Aldan's Road Comp Series, single adjustable Chevelle coilovers deliver superior handling and ride quality for a drastic improvement over stock suspension. For even more adjustment, see our RCX Double Adjustable coilover kits. Our high tensile coil-springs are designed to fit directly into the factory's upper spring pockets. Ride-height adjustment features allow you to lower the stance of your ride from stock, down to 2.0" lowered – making them a great choice for cruising, street, autocross or racing applications.
HOW CAN WE HELP YOU?
Call us and we will help you find the right part for your vehicle.
VEHICLE SPOTLIGHT | ONE OFF RIDES GARAGE

The team from One Off Rides Garage and James of @626chevelle came together to build one incredible 1972 Chevelle for the Super Chevy Muscle Car Challenge sponsored by Falken Tire and Classic Industries.

Aldan American set this Chevelle up with our GM Road Comp Series Coilovers to handle to slalom, 100 yard dash and road course at Fontana Speedway.
ARTICLES & RESOURCES
The Chevelle and Malibu cars span from the GM A-Body to the era of the GM G-Body with a body style approved by NASCAR for several seasons. Performance handling and improved stance and drivability is what we set out for when developing our coilover conversion and adjustable shock systems for 1964-1967, 1968-1972, 1973-1977 and the 1978-1983 Chevy Chevelle and Malibu cars within these year spans.
Our experienced team has built and been apart of several Chevelle builds and projects over the years and we know how to get your suspension updated and setup correctly. Whether a pro-touring full chassis build, or if you're taking a stock car and looking to lower the stance with your new wheels and tires – We have coilover options for your Chevelle at Aldan American.