Pontiac Firebird Coilover Kits & Suspension Upgrades
1982-1992
Third Generation Pontiac Firebird Coilover Kit
Years: 1982-1992
The suspension received a significant upgrade on the narrower, shorter, lighter 1982-1992 Pontiac Firebird. At the front were MacPherson struts, while at the rear, twin rear lower trailing arms and a Panhard bar combined with coil springs. To control rear axle movement, GM engineers fitted a torque arm.
Buyers could order the WS6 performance package on the SE and Trans Am, including stiffer springs, thicker sway bars, four-wheel disc brakes, and a Positraction differential.
Regardless of which suspension package is in your third-gen Firebird, an adjustable coilover suspension conversion will add performance and versatility to your ride.
The Aldan American coilover kit for third-gen Firebird models is available with single- or double-adjustable shocks at all four corners. With this level of tuning available, Firebird owners can custom-adjust their car's suspension for wherever they drive — from Friday cruise nights to Saturday drags to a Sunday afternoon autocross.
Need a Different Year?
1970 – 1981 Pontiac Firebird
1993 – 2002 Pontiac Firebird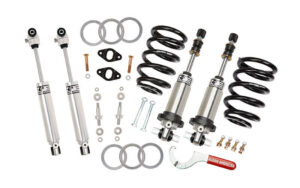 FEATURES & BENEFITS
Made in the U.S.A.
True Bolt-On Design
Properly Lowers 0.0-2.0" From Stock
Fully Adjustable – Improves Handling & Control
Smoother Ride on The Street
Easy To Tune With Turn Dial Adjustment – Set To Your Liking!
Aldan Shocks are Fully Rebuildable & Serviceable
Lifetime Warranty
Aldan American Pontiac Firebird Suspension Upgrades
Every component of an Aldan American coilover kit has been designed and developed with more than 40 years of experience in muscle car suspension.
Aldan American coilovers are manufactured in the U.S. from lightweight, high-strength 6061-T6 billet aluminum, are fully serviceable and rebuildable, and come with Aldan's Forever Guarantee.
We offer our 1982-1992 Pontiac Firebird coilover suspension kit with two different spring rates. Along with our adjustable coilover shocks, you can custom-tune your Firebird's suspension for wherever you drive.
HOW CAN WE HELP YOU?
Call us and we will help you find the right part for your vehicle.
ARTICLES & RESOURCES