Mustang Coilover Kits & Suspension Upgrades
1979-1993
Third Generation Ford Mustang Coilover Kit
Years: 1979-1993
Trim Styles: Base, Cobra, GT, 5.0, L, LX, GL, GLX, SC, SVO, Saleen
Based on the new Fox platform, the third-gen Mustang adopted a space-saving McPherson strut front suspension, allowing Ford engineers to easily fit engines from inline fours to V8s. Another of the many improvements on the third-gen Mustang was the better handling Quadra-link (four-link) rear suspension with coil springs.
The third-gen Mustang (1979 – 1993) — with coil springs all around — is an ideal candidate to convert to Aldan American bolt-on coilover kits.  Like all of our coilover kits, they don't require cutting or welding. With the kit's adjustable spring retainers, ride height can be lowered by up to 2.0-inches, giving your third-generation Mustang a proper performance stance. Our single- and double-adjustable shocks can be tuned for street, strip or autocross, offering great flexibility to all Mustang owners.
Order the package recommended for your specific vehicle in the search results below.
Need a Different Year?
1964 – 1973 Ford Mustang
1974 – 1978 Ford Mustang II
2015 – 2023 Ford Mustang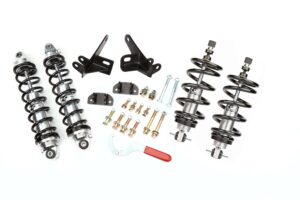 FEATURES & BENEFITS
Made in the U.S.A.
True Bolt-On Design
Properly Lowers 0.0-2.0" From Stock
Fully Adjustable – Improves Handling & Control
Smoother Ride on The Street
Easy To Tune With Turn Dial Adjustment – Set To Your Liking!
Aldan Shocks are Fully Rebuildable & Serviceable
Lifetime Warranty
Aldan American 1979 – 1993 Mustang Suspension Upgrades
Aldan American coilover kits are suspension upgrades loaded with over 40 years American muscle car innovation and suspension performance knowledge a perfect fit for your prized classic car or truck.
Our Mustang coilover kits are single or double adjustable with parts specifically designed to match the third generation Mustang's OEM spring and shock fitments.
Aldan Mustang coilover conversion kits are designed to convert your stock front suspension to adjustable coilovers and rear suspension to adjustable shock absorbers. They truly are made with installation ease in mind – a full coilover kit can be installed on your Mustang in a matter of hours using standard garage tools, and they work with factory and aftermarket front control arms.
Just need lowering springs? We got you!
Aldan American also supplies lowering springs to lower your ride for peak performance: Shop Lowering Springs Here.
HOW CAN WE HELP YOU?
Call us and we will help you find the right part for your vehicle.