Mustang II Coilover Kits & Suspension Upgrades
1974 – 1978
Mustang II Front Coilover Shocks
Years: 1974 – 1978
While the 1974-1978 Mustang II is unlikely to make any enthusiast's top 10 list of Mustangs, it played an essential role in Mustang history and in the automotive aftermarket. Many automotive historians believe that without the Mustang II, it's likely the Mustang as a model line could have ended in 1973.
When adapting the Pinto front suspension to the more upscale Mustang II, Ford engineers devised an innovative solution to improve ride quality and reduce noise. They fitted the Pinto components to a subframe, including the rack and pinion steering rack.
This made the subframe, with all suspension, steering and front disc brakes attached, easily removable. More importantly, it was straightforward fit into other vehicles, including first-gen Mustangs, Cobra kit cars, and production-based drag racers, among many other applications.
Need a Different Year?
1964 – 1973 Ford Mustang
1979 – 1993 Ford Mustang
2015 – 2023 Ford Mustang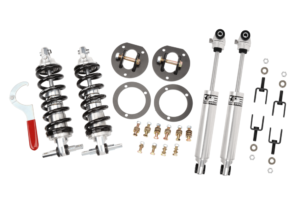 FEATURES & BENEFITS
Made in the U.S.A.
True Bolt-On Design
Properly Lowers 0.0-2.0" From Stock
Fully Adjustable – Improves Handling & Control
Smoother Ride on The Street
Easy To Tune With Turn Dial Adjustment – Set To Your Liking!
Aldan Shocks are Fully Rebuildable & Serviceable
Lifetime Warranty
Aldan American MII Front Suspension Upgrade
Choose Aldan American MII coilover shock absorbers to upgrade your street rod, hot rod, muscle car, classic car or truck, racing vehicle or custom chassis project fitted with a Mustang II front suspension. Installation is bolt-on with no drilling or welding required for an easy installation.
The separate left and right dampers are single-adjustable configurations with 20 levels of rebound adjustment. Plus, with adjustable spring perches on the coilover shocks, you can lower the ride height of your front suspension by up to 3.0 inches.
Every Aldan American suspension component has been designed and developed with more than 40 years of experience in American muscle suspension. Aldan coilovers and shocks are manufactured in the U.S. from lightweight, high-strength 6061-T6 billet aluminum, are fully serviceable and rebuildable, and come with Aldan's Forever Guarantee.
HOW CAN WE HELP YOU?
Call us and we will help you find the right part for your vehicle.
ARTICLES & RESOURCES