Dodge Viper Coilover Kits
Second and Third Gen Dodge Viper SRT-10 Coilover Kit
Years: 1996-2010
The third- and fourth-generation shared updated styling and a number of improvements over previous models in making the Viper a more focused supercar. By 2008, the Viper V10 engine was producing 600 HP. Suspension was revised and a speed-sensing limited-slip differential helped out power to the ground.
Upgrade the ride and handling of your 2003-2006 ZB I or 2007-2010 ZB II Viper by replacing the stock non-adjustable shocks with an Aldan American suspension upgrade package.
Need a Different Year?
1992 – 1995 Dodge Viper
1996 – 2002 Dodge Viper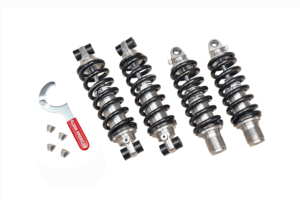 FEATURES & BENEFITS
Made in the U.S.A.
True Bolt-On Design
Properly Lowers 0.0-2.0" From Stock
Fully Adjustable – Improves Handling & Control
Smoother Ride on The Street
Easy To Tune With Turn Dial Adjustment – Set To Your Liking!
Aldan Shocks are Fully Rebuildable & Serviceable
Lifetime Warranty
Aldan American Dodge Viper Suspension Upgrades
More than 40 years of experience in muscle car suspension go into every Aldan American spring and are designed and built in the USA to bolt onto OEM mounting locations.
Replace your worn out Viper shocks with Aldan American's fully adjustable coilovers made here in the U.S.A. Machined from light-weight, high strength 6061-T6 billet aluminum. Aldan springs are a linear design and cold wound for greater handling and performance. Aldan coilovers are fully adjustable in both shock tuning and ride-height adjustment. Single and double adjustable coilovers included. Turn-dial tuning allows a wide range of adjustment to set your ride characteristics where you need it. Aldan coilovers offer stock height to 2.0" of lowering. Street performance and track packages available.
HOW CAN WE HELP YOU?
Call us and we will help you find the right part for your vehicle.
INSTALLATION u0026 DIY GUIDE
ARTICLES & RESOURCES