Car Craft Challenger Build Episode 3: Rear Suspension and Final Touches
Car Craft celebrated the new year with the third and final segment for the 1972 Dodge Challenger build series. In episode 3, the team consists of Car builder Kevin Tetz, Hot Rod magazine editor John McGann, and Pure Vision owner Steven Strope. The group focuses on the rear suspension and final touches. 
The original rear axle is dropped out of the car, and the leaf spring is removed. McGann builds a new 9-inch rear end to support the power from the new Hellcat engine. He then installs the correct gear ratios to take advantage of the new engine's power.
McGann then installs the new driveshaft. Tetz meanwhile preps and paints the Challenger's hood.
Strope is busy installing new bolts onto the fenders to replace the old and rusted ones.
Tetz and McGann start installing the Aldan American rear coilover brackets, rear end, and rear coilovers. Next, Strope works on the front side of the car in front of the radiator, installing an external oil cooler to keep the oil temperatures at a safe level and increasing the engine life. 
An air to water intercooler is installed to cool the inlet air temperature from the supercharger. Tetz then steps in and installs a new battery and spark plugs. The segment ends with the team reinstalling the hood and pondering the places that will test the limits of the resto-modded Challenger.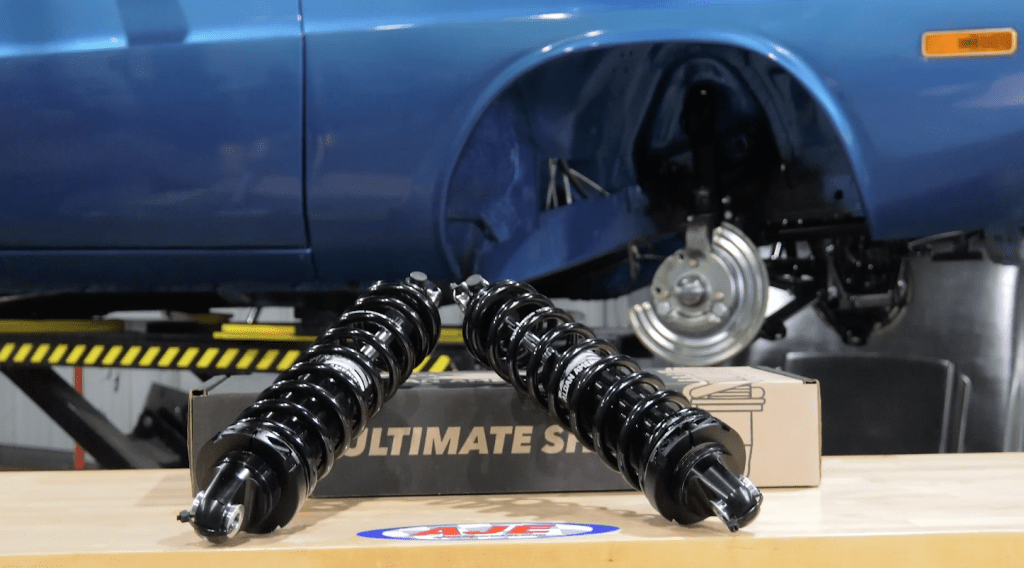 If you missed the first episode check it out here.
For the second episode click here.
Shop Coilover Kits for your classic Dodge Today! Show Now.