Classic Truck Performance | January 2022
January 26, 2022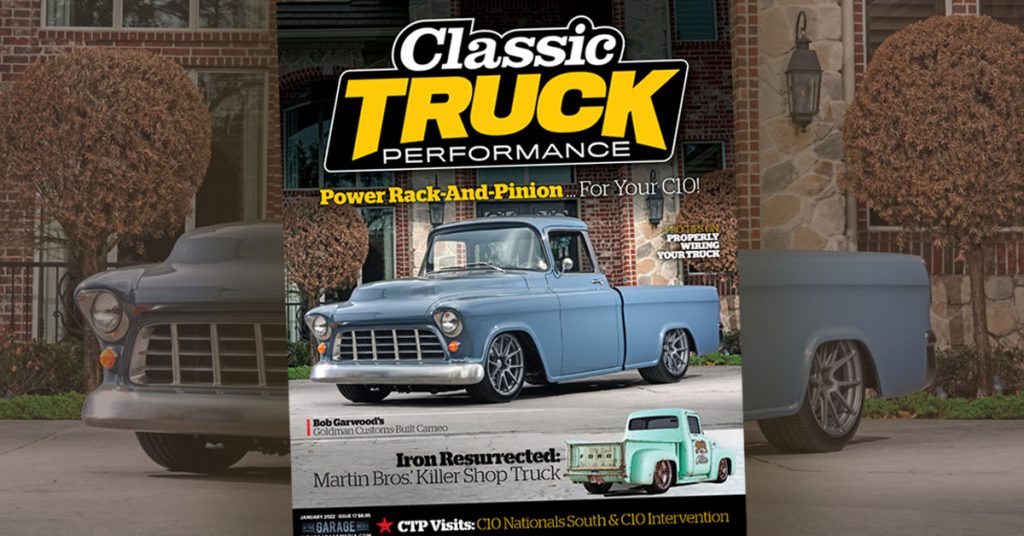 The January Issue of Classic Truck Performance is here! On the cover, The Goldman Touch Cameo Carrier is featured!
Bob Garwood acquired a 1955 Cameo Carrier in 2012. Later in 2018, He commissioned Mike, Sherry, and Talbert of Mike Goldman Customs in Meridian, Mississippi, to make his project car a reality.
Garwood knew Mike Goldman Customs was the right fit for his vision, previously working on his 1965 Buick Riviera.
So the Cameo Carrier was stripped to bare metal, and a new performance-oriented chassis was fitted to the truck to support a Chevy LS7 and T56 Transmission.
The exterior chrome was given a brushed finish, side slabs trim was removed, and door handles were installed. The tailgate was smoothed, and the truck was painted a matte baby blue. The interior is gray, with a custom sport center console, Dashboard sourced from a Bel air, and bucket seats.
Once completed, en route to deliver the Cameo Carrier to Bob in Houston, the Goldmans made a quick stop at the Goodguys Spring Nationals in Fort Worth, where it received the Builder's Choice award.
Click the link below to checkout the digital version.