The GMT400 Spawned Chevy's First Performance Truck
The 454 SS Pickup Was Hot Back Then and Still Turns Heads
The fourth-generation Chevy trucks, 1988-2002, were built on what Chevy called the GMT400 platform. It didn't have a special name designation attached to it, like the previous third-generation "Round Line," for example.
Chevy wanted to up its game when it came to their new pickup line, or change the game entirely. Chevrolet General Manager Robert Burger made a bold claim about the GMT400: "It's to full-size pickups what the pocket calculator was to the slide rule." The new pickups were sleeker, redesigned inside and out ready to take on the world.
Of course, like their predecessors, the New Generation pickups in 1988 were durable, hardworking and long lasting.
Who could foresee that in 1990, a new Chevy pickup was ready to boldly represent its generation in the form of an exciting, limited production GMT400?
Black Beauty: The 454 SS.
Unless you had the bucks for two vehicles, most guys in the early '90s had to choose between a muscle car or a reliable and functional pickup truck. That dilemma changed in 1990 when Chevrolet debuted a unique version of their half-ton Fleetside pickup.
It was called the 454 SS…SS for Super Sport. The initial sales brochures described the 454 SS in straightforward pickup truck language:
"It's a one-of-a-kind C1500 Regular Cab Short-Box with the largest V-8 in a regular-production half-ton pickup today!"
But those clunky words couldn't capture the visual and genuine excitement this super special pickup truck presented to eager buyers—plenty of style, nice power and "look what I got" status.
Here are the specs on that first-year 1990 454 SS:
V-8 L19 7.4-liter (454 cubic-inch) engine
230 horsepower and 385 pound-feet of torque
3-speed automatic transmission
Locking rear differential with 3.73 axle and unique rear axle
A ZQ8 Sport suspension that featured Bilstein gas shock absorbers

The first 454 SS came in "ominous" Onyx Black paint only, tinted glass, halogen-composite headlamps and low-profile blackwall tires. On the inside, the cab was special, too:
High-back Sport bucket seats
Striking red-cloth interior
Center console
AM-FM cassette audio system and more creature comforts.

In full-page magazine ads showcasing the 454 SS, Chevy said, "It's so serious it only comes in black." A different print ad headline said it another way: "The beauty of a sport truck. The subtlety of sledgehammer." Chevy literature claimed the 454 SS was the world's most powerful production half-ton pickup.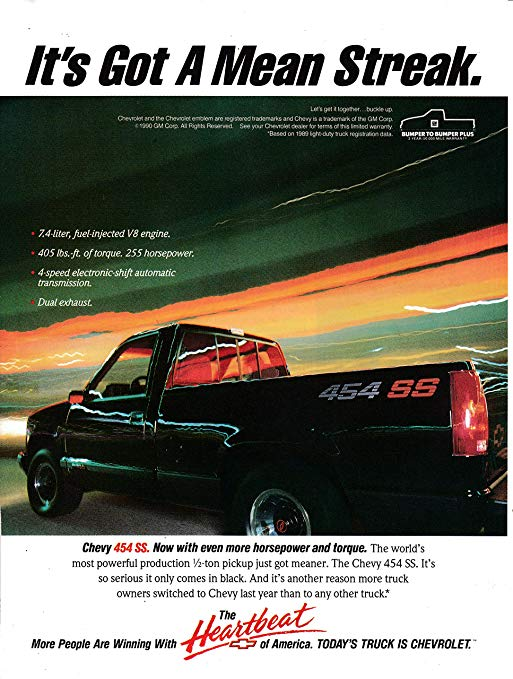 A 1990 454 SS came with a price tag of $18,295 (about $36,000 in today's money) and 13,700 units were sold that first year. Two more color options were made available the next two years: Summit White and Victory Red. The horsepower went up the following years, and so did the price. Chevy produced fewer than 17,000 total 454 SS pickups during its three-year production run.
Most of the 454 SS pickups, the thinking goes, saw limited use. Truth be told, the eye-catching pickup had limited towing-and-hauling capacity. So, it's possible that many early buyers had the idea of hanging onto to a vehicle that could one day become a collectible. (More on that later.)
Distant relatives and descendants.
Some truck enthusiasts see a line connecting the Chevrolet 454 SS Pickup and some later specialty trucks from other manufacturers. In 1993, for instance, Ford rolled out their first-generation Ford SVT F-150 Lightning, to go head-to-head with the 454 SS. Nine years later, in 2002, Dodge introduced their own limited-edition sport pickup truck, the Ram SRT-10.
A New Generation…of buyers.
A couple of years ago Hagerty.com posted an article titled, "The 1990–93 Chevrolet 454 SS pickup is experiencing a youth movement." The writeup said the value of the truck had been increasing percentagewise over the previous three to five years.
Hagerty valuation editor Andrew Newton was quoted on the trend: "Like a lot of '90s cars and trucks, the 454 SS is fairly popular among younger buyers, which is a good sign for collectability in the long-term."
In 2019 a collector paid $40,700 for a 1990 454 SS with 3,700 original miles at Mecum's 2019 Kissimmee Auction. And in early 2020, a 454 SS with only 26 miles was written about online—it was still in its "factory plastic wrap" and shiny as new.
The asking price was $52,000.
I guess you could say that like a fine wine, limited-edition, eye-catching Chevy pickups age well, and chances are there will always be those who are willing to pay for a taste of history.
See the Chevy 454 SS in action compared against the 1993 Ford SVT F-150 Lightning.
Resources:
"Chevrolet Trucks: 100 Years of Building the Future." Crestline Books, 2019. Edsall;
wikipedia.org/wiki/Chevrolet_C/K; chevytrucklegends.com/100-year-history-1973; hagerty.com/media/car-profiles/454-ss-pickup; thedrive.com/news/454-ss-pickup-factory-plastic-wrap; wikipedia.org/listofchevypickuptrucks; motortrend.com/news/chevrolet-454-ss-muscle-truck-buying-guide;
mecum.com/lots/1990-chevrolet-ss-454-pickup