C5 Corvette owner in Los Angeles was interested in removing his mono leafs and Z06 factory shocks and replacing this stock setup with ride-height adjustable coilovers.
Why did he want this change?  He was using his C5 for a daily drive but also wanted to be have the ability to hit the track and the canyons whenever possible. He was looking for an all around solution that he could set his shock damping and stance to his preference. Improving ride-quality around town and performance at the track was also on the list.
C6 Corvette coilover install going down today with Vette Magazine McLeod Clutches Powerhaus VW stay tuned for more thought the day. Check out our blog post above for more Corvette suspension tech

Posted by Aldan American on Friday, June 2, 2017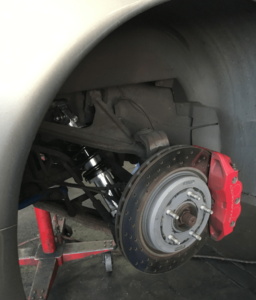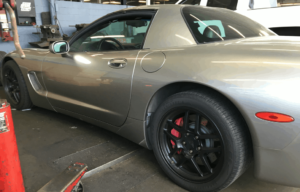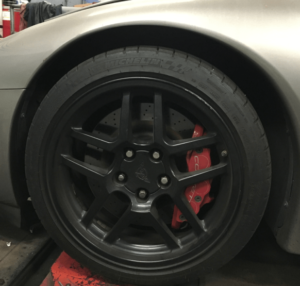 Pics above are after the initial install. Stock or aftermarket swaybars can be used with our kits for additional performance in handling and responsiveness.
Corvette install video – segment 1
Our Aldan C5/C6 Corvette coil-over kits use all of the factory shock mounting locations and replaces stock Corvette shocks & springs with our light-weight, fully adjustable coilover shocks.
Part #: C5SBF2 (Front Kit)
Part #: C5SB4 (Front/Rear Kit)
Part #: C5SBR2 (Rear Kit)
The car was a 1999 FRC Corvette sitting on the ground with lowering bolts, Z06 shocks and factory mono-leaf springs. Ride quality was decent, but had room for improvement. Our Phantom Series line of Corvette coilovers allow for rebound adjustment in the rear and compression adjustment on the front coilovers. With these damping settings, you'll be able to fine tune the speed in which your shocks respond to the road.
Here are Aldan American parts for your Corvette.
Check out our full line of vehicle specific suspension kits here.