Chevy El Camino: The Coupe Utility
September 16, 2022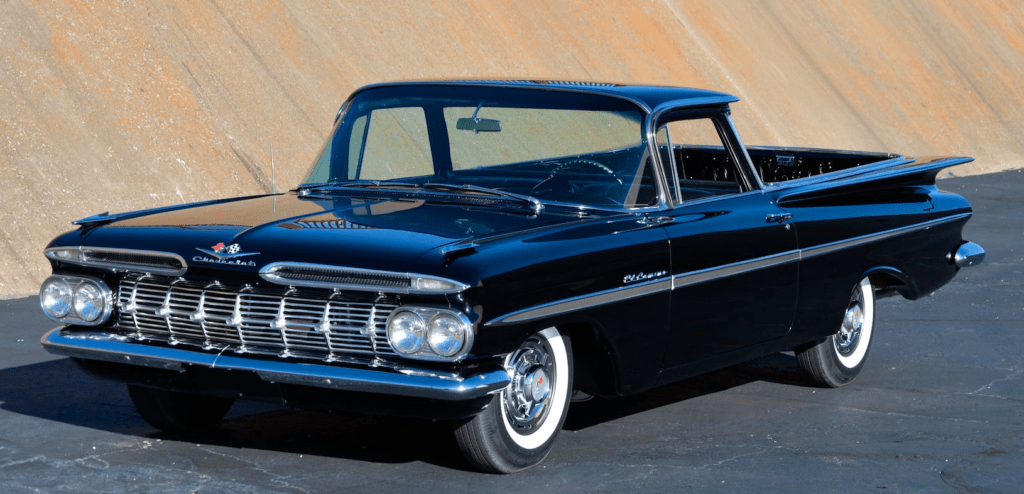 The auto industry categorizes the Chevrolet El Camino as a Coupe Utility and it's easy to understand why. The front half of the El Camino is a two-door coupe with the utility of an open bed at the rear, in a one-piece body shell with no gap between the cab and bed.
The Coupe Utility
Where the idea came from for a coupe utility is foggy, it likely came from Australia in the years before WWII. The story Ford promotes is that an Australian farmer's wife wrote to their regional office asking for a vehicle that could be used as a truck during the week yet still be suitable to drive to church on Sundays.
Ford released the Model A-based Coupe Utility to the Australian market in 1934, though the public quickly shortened it's name to Ute. General Motors quickly responded and released its version of a Ute that same year. GM continued to produce Utes in Australia after WWII, under Chevrolet, Holden and Vauxhall brands until ending production in 2017.
First Generation 1959-1960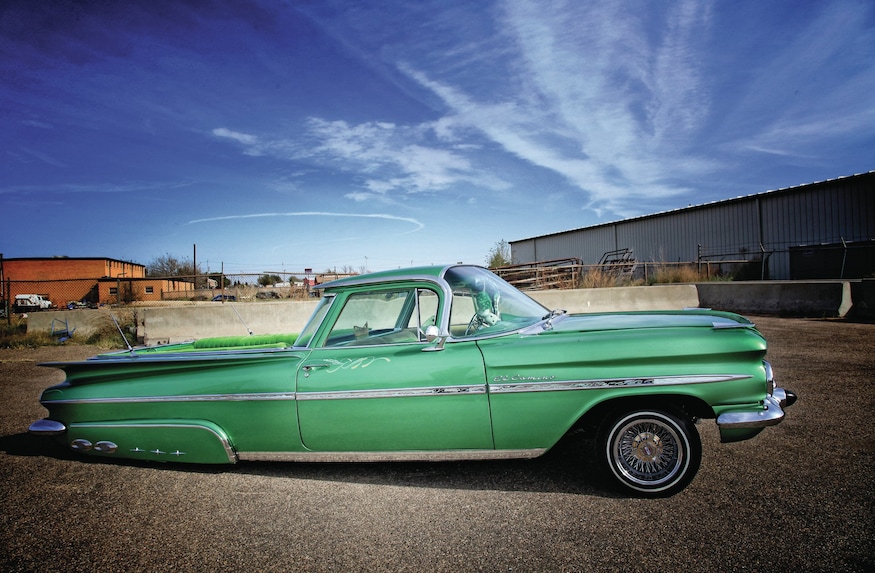 In the U.S., Chevrolet introduced the original El Camino in 1959, only to drop the Ute after the 1960 model year. It was added to the Chevrolet lineup as a response to the Ford Ranchero and was based on the full-size B body platform, with coil springs in front and leaf springs in the rear. The limited utility of its bed and its high price kept sales low.
While the concept was strong, the first-generation execution didn't match buyers' needs. Chevy took that to heart and saw the upcoming new intermediate-sized A Body Platform as a better host for their Ute concept.
Second Generation 1964-1967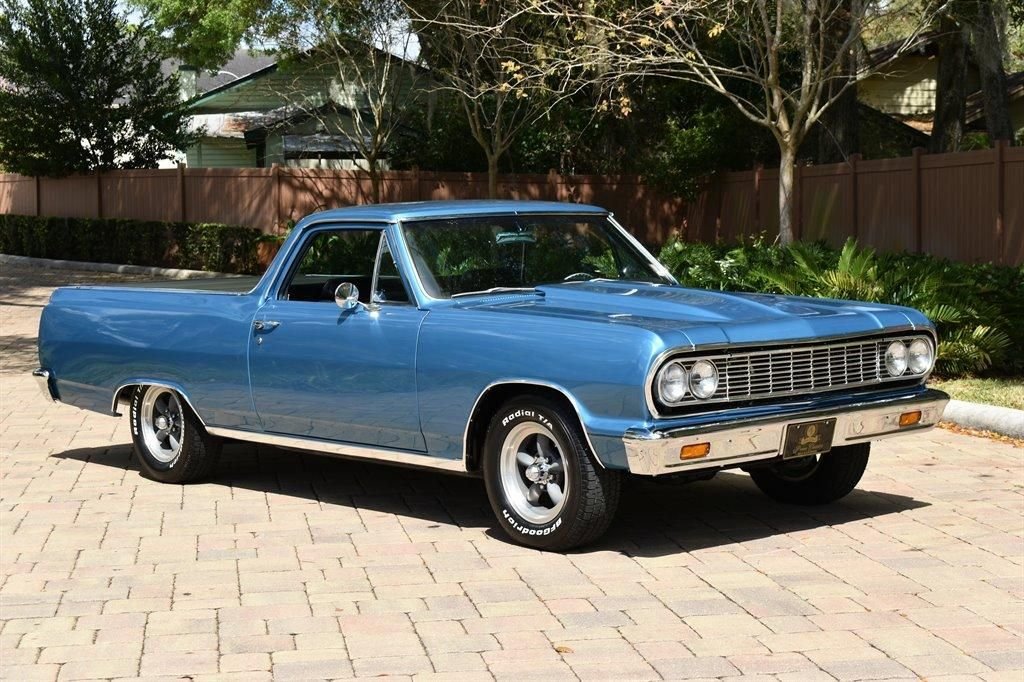 The A-body platform featured a full perimeter frame with independent coil spring front suspension and a four-link coil spring suspension in the rear, making it an excellent basis for OEM packages and aftermarket upgrades.
The new second-generation 1964 El Camino featured a longer, taller cargo box with a wider tailgate than its predecessor, all within a more compact overall layout. Ordered with the optional 300 HP 327 CID V8, one could already visualize the El Camino's potential as a high-performance model.
Third Generation 1968-1972
With updated styling for the 1968 to 1972 model years, the longer-wheelbase El Camino also saw the introduction of the SS 396 model. The three-inch increase in length created a 385 cubic foot cargo area, significantly greater than the more ponderous 1959-1960 El Camino.
On the exterior, the SS 396 was set apart by its black grille and lower body paint, chrome lower body moldings, power bulge hood, unique wheels, and SS 396 emblems. The dual body stripes could only be ordered on SS 396 models.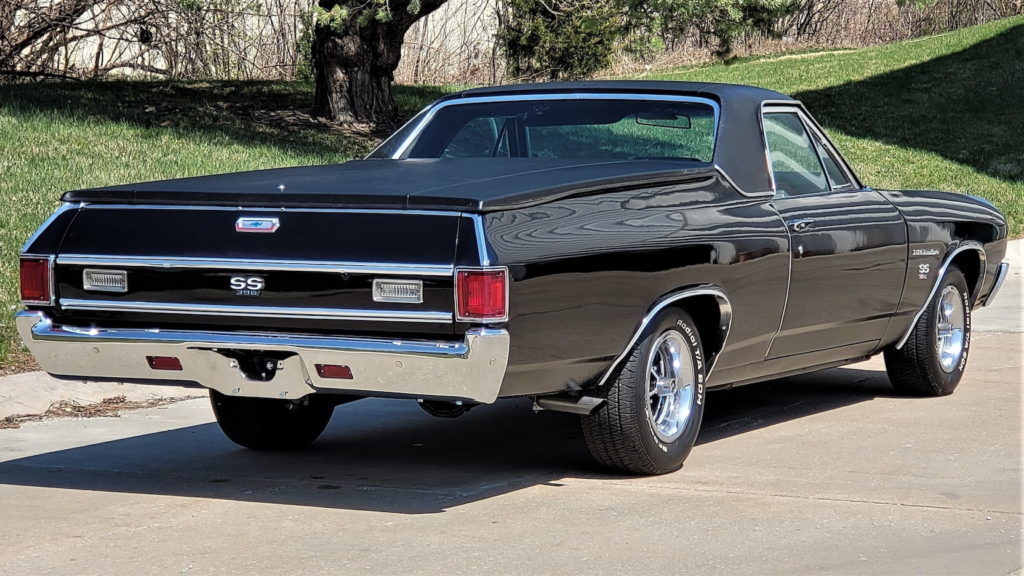 The interior featured optional Strato-Bucket seats and a floor shifter, along with unique SS 396 trim.
The rated 375 HP L72 396 V8 was the choice of enthusiasts. It featured a forged steel crankshaft riding on four-bolt mains, forged pop-top pistons, L72 high lift camshaft working solid lifters, coated intake and exhaust valves inserted into closed chamber square port heads, topped with an 800 CFM Holley four-barrel on an aluminum high rise intake manifold.
For 1970, the El Camino received all-new front-end styling on the third-generation body style. The 396 CID engine continued, but only in marketing materials. The cylinder bore was increased marginally, yielding a capacity of 402 CID. However, the 396 name had quickly become a legend among enthusiasts, and Chevrolet didn't want to tamper with its fame.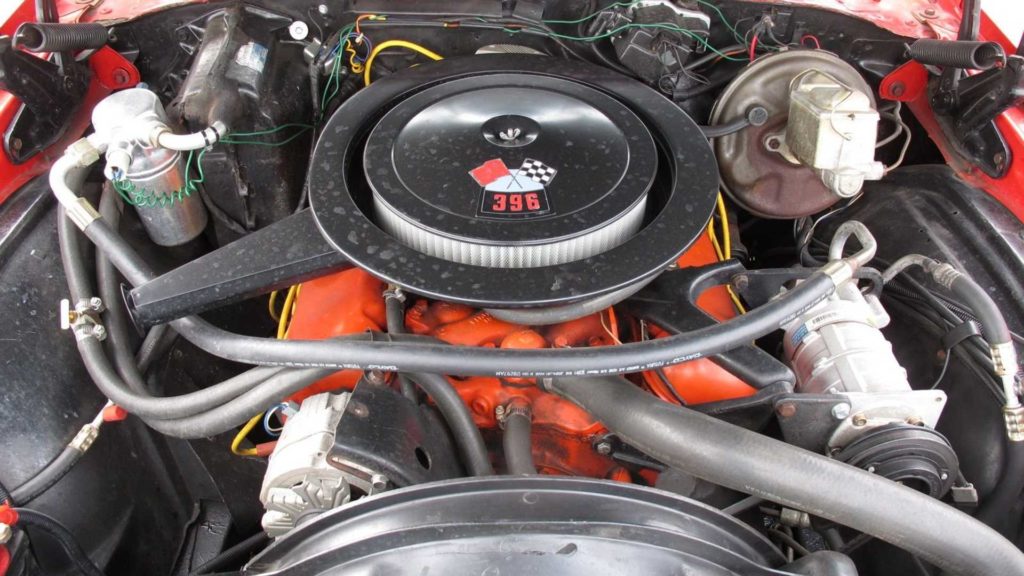 Chevrolet offered El Camino buyers its largest and most powerful engine of the time in 1970. The legendary LS6 454 CID engine was rated at 450 HP and 500 lb-ft of torque, with magazines reporting low 13-second quarter mile times and a 0-60 of six seconds.
To create the LS6, Chevy started with their big block with a 4.25-inch cylinder bore. Four bolt mains secured the forged steel crankshaft and connecting rods with a 4.0-inch stroke. Impact-extruded aluminum pistons and 109 cc combustion chambers delivered an 11:25:1 compression ratio. The rectangle-port heads carried 2.19-inch intake and 1.88 exhaust valves operated by an aggressive high lift, long-duration camshaft through solid lifters. Everything about this motor was super-sized.
1971 saw yet another restyling of the El Camino, replacing the dual front headlamps with single large units and a new bumper and grille. The 454 V8 continued as an RPO Code LS5 but is now limited to 365 HP. 1972 saw the adoption of SAE Net horsepower ratings, so the 396 (402) was advertised as 240 HP and the LS5 454 as 270 HP.
Fourth Generation: 1973 – 1977
Another redesign for 1973-1977 saw the largest El Camino yet, with a large hydraulic front bumper fitted to meet new federal safety mandates. It was also the first generation of El Camino to offer front disc brakes as standard. The door glass changed to a frameless design. Despite riding on an all-new chassis, the four-wheel coil spring suspension continued.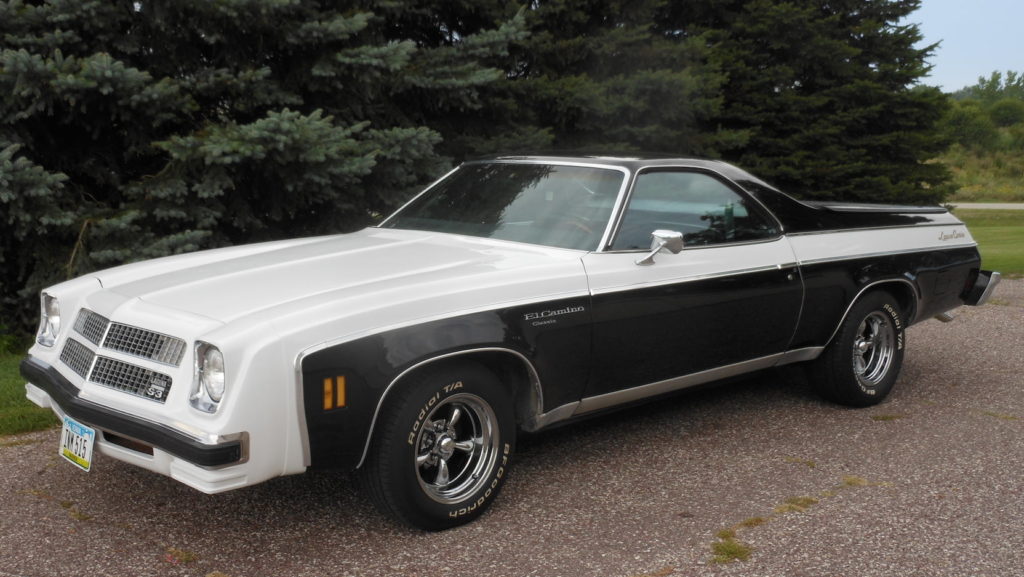 The base engine was a 115 HP 307 V8, two 350 V8s with a two-barrel carburetor, and the other with a four-barrel, producing 145 HP and 175 HP, respectively. The 245 HP 454 V8, topped with a four-barrel carb, was also available.
The 1975 El Camino was the last to offer the 454, down to 215 HP. In 1976, the top engine was the 400 CID V8, rated at 175 HP, though it would be the final year for a big block. The SS package continued but only as a trim package.
Fifth Generation: 1978 – 1987
Completely restyled for 1978, the El Camino now mirrored the styling of the sharp-edged Malibu. For the first time in its history, the El Camino rode on a chassis not shared with any other model.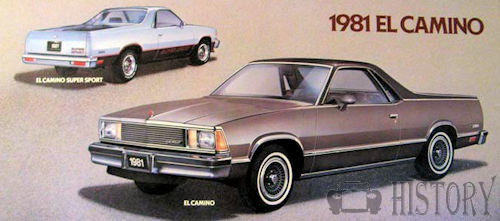 The top engine choice was a 350 CID V8 that developed 170 HP, just 5 HP shy of the final 400 CID big block of 1975. The fifth-gen El Camino could be ordered with a three-speed or four-speed manual transmission with a floor shifter.
For the final run of the El Camino, the front end was redesigned to accommodate quad headlamps. It's likely best remembered for the troublesome diesel 350 V8 available from 1982-1983. Also, in 1983, the 350 became the only V8 engine available.
El Camino manufacturing was shifted to Mexico for the 1985 model year, with production ending in 1987.
Regardless of which generation of El Camino you own, Aldan American has a coilover conversion kit for you. These kits are 100% bolt-on, with no drilling, cutting or welding required for installation. Each is manufactured here in the U.S. using superior-quality materials.
Aldan Shocks are fully rebuildable and serviceable and are covered by our lifetime Forever Guarantee.
The adjustable shocks allow you to tune your El Camino's ride to your preferences, and with threaded spring perches, ride height can be lowered by up to 2.0 inches.
So if you're setting your 1964-1987 El Camino up for the strip, autocrossing or cruising (or all three), Aldan American is your best choice for coilover suspension conversion kits.
Interested in upgrading your A-Body?
We offer full upgrade kits including control arms for A-Body models. Check out this full install guide below:
Other stories about the El Camino & it's history: