Chevy Cut a Suburban Down to Size
February 10, 2022
The "Urban"? No…the K5 Blazer.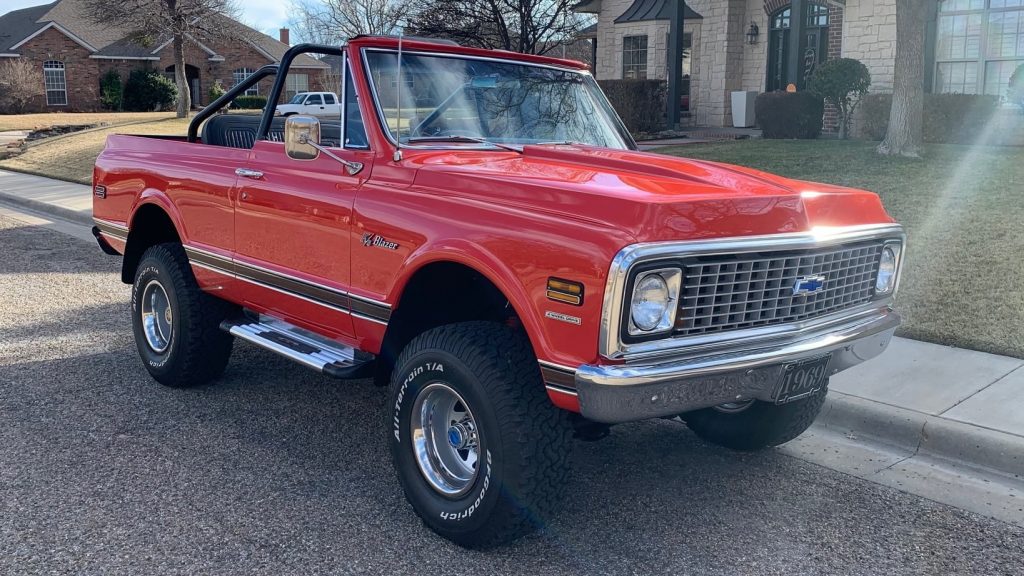 Sometimes a new star is born not out of innovation, but from catching up to the competition. That's the story behind one of the most popular sport-utility vehicles ever made: the Chevy Blazer.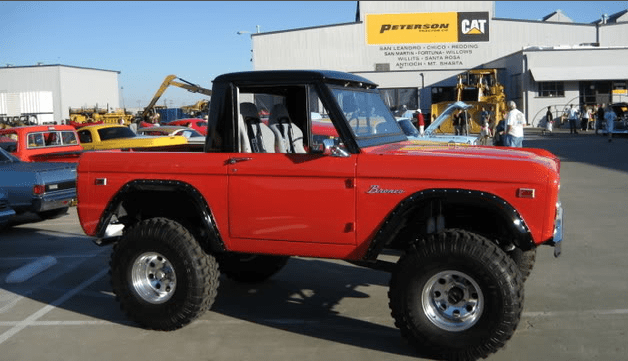 1966 Bronco Half Cab
Image Courtesy of Garret Harmola of Aldan American
In 1966, Ford introduced the Ford Bronco, their first in the compact off-road category. But the Bronco was in response to two other vehicles that had been getting attention for a few years already: One was the Jeep CJ-5. Jeep had been selling their off-road vehicle, a "civilian jeep" (CJ), to the public since before the end of WWII. The other vehicle was the Scout from International Harvester, which sold 28,000 units in 1961. Both vehicles were getting attention from those who wanted something fun to drive that wasn't a car and wasn't a farm-like truck. But they weren't getting attention from U.S. automakers right away, until Ford jumped in.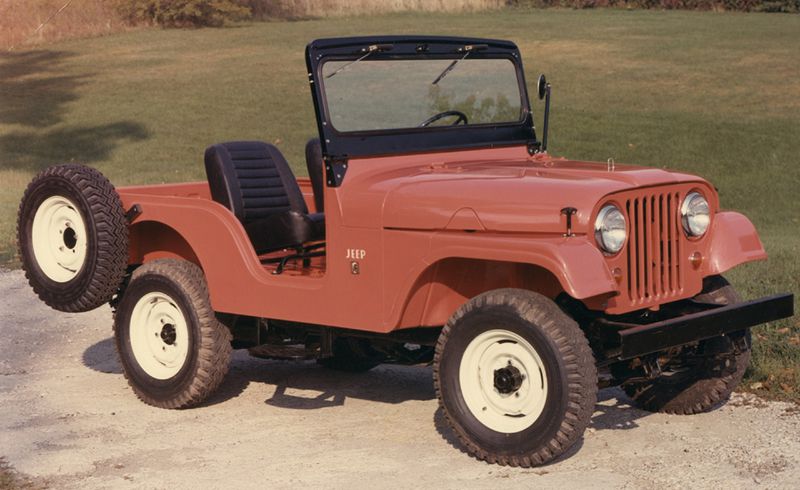 1966 JEEP CJ-5 two-door
Image Courtesy of My Daily News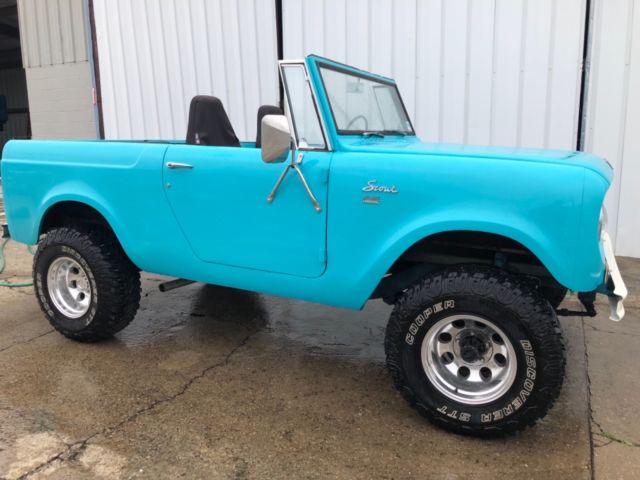 1966 IH International Harvester Scout 800 V8 4×4
Image Courtesy of Classic Cars for Sale
The big automakers respond.
Tastes were changing in America. Baby Boomer's kids were in their 20s, and they were looking for fun and adventure, going anywhere they wanted, on the highway and off-road too. When the Bronco debuted in 1966, Chevy marketers were late to the game and realized they needed to be in the off-road market with a challenger.
They initially put a team on the project and had a prototype in development in the mid-sixties, until production cost estimates versus projections didn't look great. So, as one YouTuber has said, "Chevy dialed in the design" on their entry into the market.
Instead of totally shelving the idea of an off-road contender, the chief engineer of Chevy trucks put a Chevy Suburban (some say it was a half-ton Fleetwood) on the drawing board instead and got out the scissors, so to speak.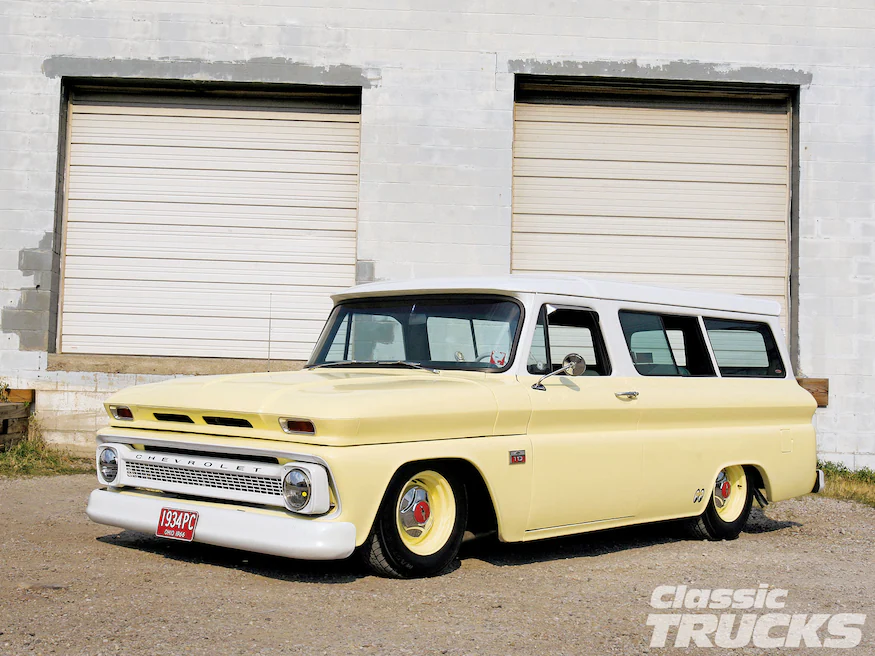 1966 Chevy Suburban – 'Burb Is The Word
Image Courtesy of MotorTrend
A brilliant innovation.
Instead of creating a vehicle that would require a completely retooled design, Chevy engineers simply chose to scale down the Chevy Suburban of the day and use the same platform and other existing design, engine and suspension features. That allowed Chevrolet not only to roll out their game-changing off-road truck faster, but it also provided would-be buyers a more spacious vehicle that offered a better ride as well as a better driving experience. The wider track and longer wheelbase (compared to the competition's offerings) delivered a smoother city ride, which would be meaningful to the average driver.
Of course, it wasn't all that simple in reality—trimming the pickup's wheelbase from 114 inches to 104 for starters—but working from an existing platform saved the day and gave Chevy an advantage. Their new vehicle was ready by late 1968, and it was roomy and powerful.
They introduced the all-new K5 Blazer, a sport utility that was destined for fame, city roads and off-road adventures.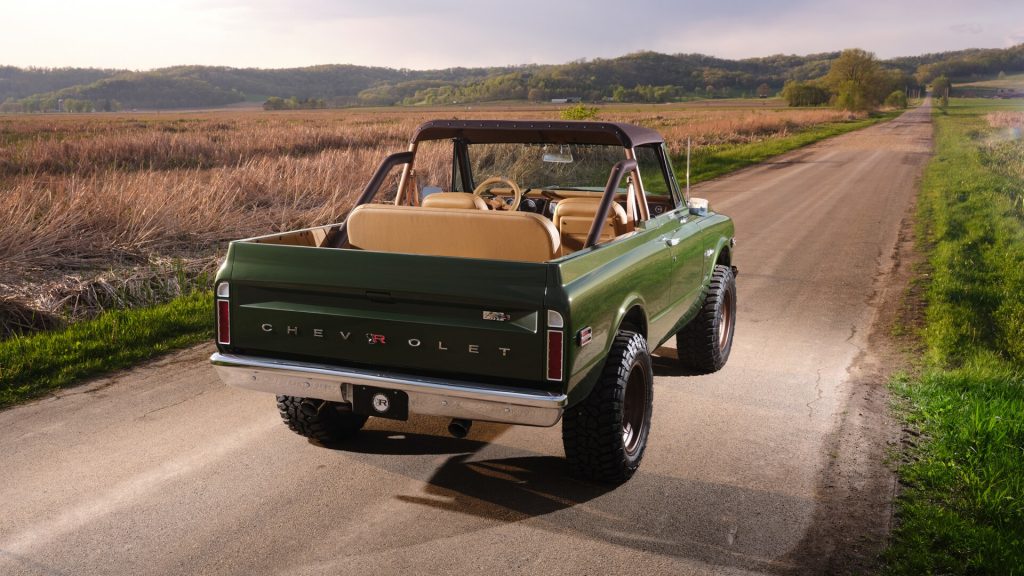 1970 Chevrolet K5 Blazer
Image Courtesy of MotorTrend
The first Blazer.
The very first 1969 Blazers were the KS and the KE V8. The KS came with the famous Chevy 250-cu.-in., straight-six engine, and there was also a 292 straight-six option. For more power under the hood, there was the standard 307-cu.-in. V8 and an optional 350-cu.-in. version too. The first-year K5 Blazers were all four-wheel drive. There were some 4×2 Blazers afterward, but few first-generation Blazers from '69 through '72 had them.
Keep in mind what the IH Scout and the Jeep looked like in the mid-sixties―that's the look Blazer was created to compete with. The basic KS or KE Blazer had only a driver seat and no top—a white or black fiberglass top or a soft top were dealer options.
Thank goodness for options, which included bucket seats and a removable rear seat. Then there was the Blazer CST (Custom Sport Truck), which offered driving and driver comforts such as power steering, power brakes and air conditioning (if you didn't want to experience the elements).
---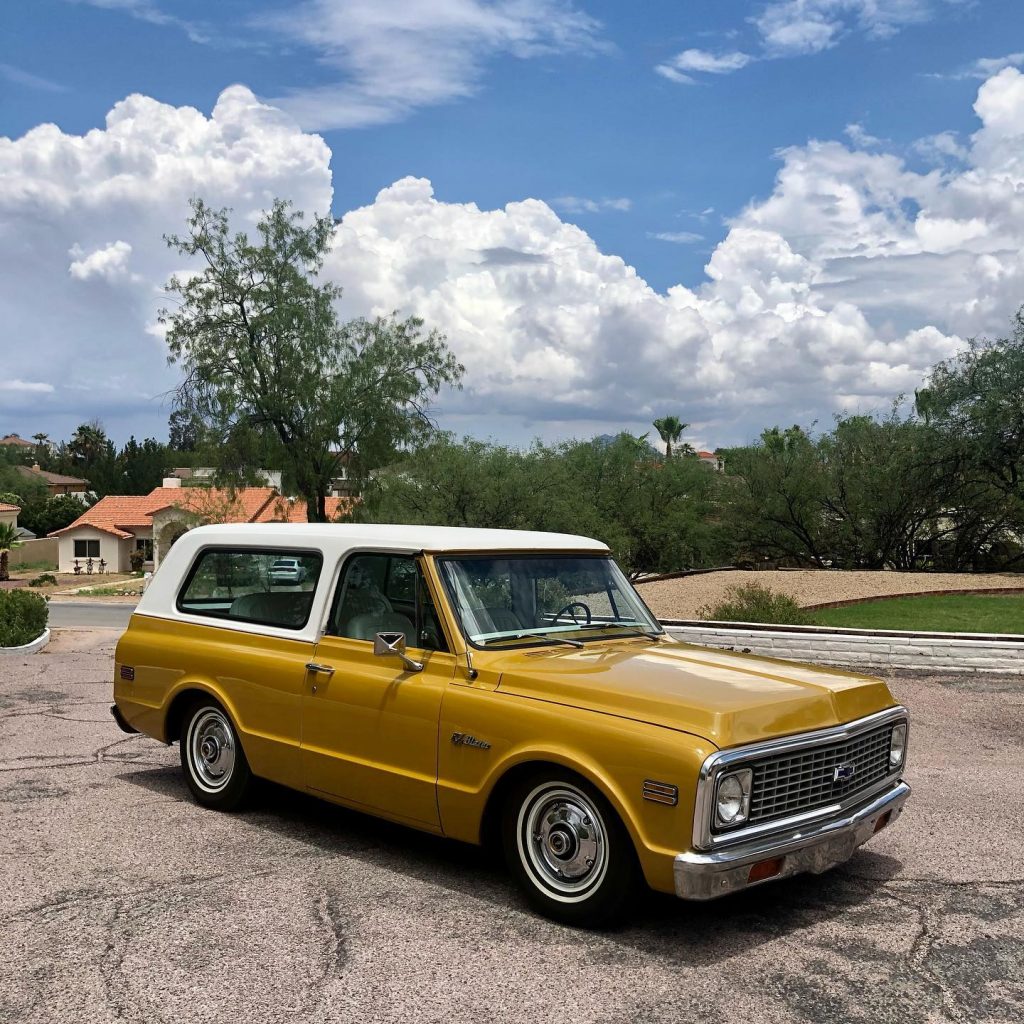 ---
The four-wheel-drive Blazer had a solid front axle, with leaf springs front and rear. All Blazers featured full drum brakes until 1971, when GM went with standard front discs on their light trucks. When the two-wheel-drive Blazers arrived, they featured independent front suspension, rear trailing arms and coil springs.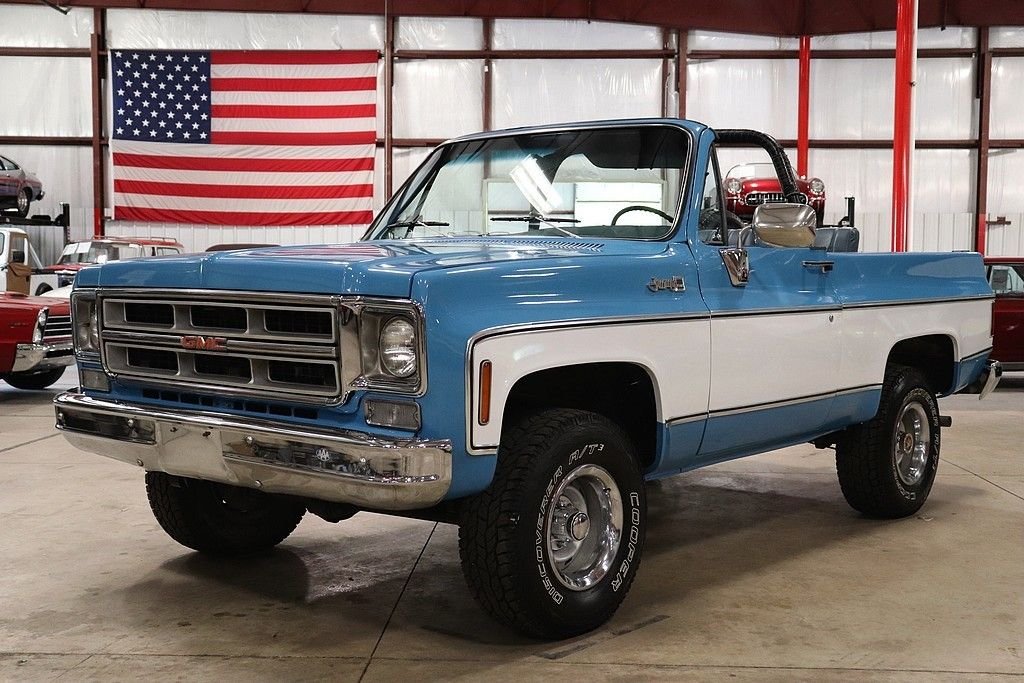 1976 GMC Jimmy
Image Courtesy of Mecum
My cousin "Jimmy."
In 1970, GMC introduced a Blazer cousin named the Jimmy. It too was a short-wheel-based truck, with four-wheel-drive and rear-wheel-drive options. It was created to be more upscale than the Blazer, as GM models are supposed to be in general compared to Chevrolets. Why "Jimmy"? Turns out GM was trying to be creative. They thought (or believed?) that when you said "GM," it could sound like "Jim"…which then easily morphed into "Jimmy." After all, the word "Jeep" had come from "GP," the abbreviation for "general purpose" vehicle.
Both the Blazer and the Jimmy could be full-convertible, thanks to removable tops…until 1975. That's when GM introduced a "half cab" design that helped solve the problem of leaks, as well as address passenger safety in case of a rollover.
Hardly blazing sales to start. But then…
It didn't take long for the K5 Blazer to become very popular. It offered the off-road escapades of its competitors, but unlike them it provided high-end features that appealed to a broader range of buyers, such as high-end air conditioning and heating, an automatic transmission and a roomier cabin. Plus, it drove like a powerful compact pickup truck.
For whatever reason that's not very clear, Chevy didn't roll out the new Blazer with a lot of fanfare. One car magazine called the Blazer introduction "the first undercover sales campaign in history." The new vehicle wasn't hyped along with the other '69 truck models in the fall of '68. In fact, the Blazer's stats weren't to be found in the data book Chevy dealers were given for the 1969 models.
First-year sales were not amazing, perhaps because of the lack of advertising, or perhaps (as some have said) because of a work stoppage at the St. Louis GM plant around the same time. First-year sales for 1969 were under 5,000 units, while Ford sold more than 20,000 Broncos…and Jeep sold more than 30,000 units.
So much for a slow start. Chevy Blazer had the power and appeal to zoom past their off-road contenders. Sales tripled the next year. By 1970, just a year after it came out, Blazer was outselling Jeep and Scout. And by '72, Blazer sales had reached more than 47,000 units.
---
---
Wanna read more about Chevy? Check out these articles!
If you are looking to work on your Chevy Blazer, Aldan has many products that fit your car needs:
Resources: youtube.com/watch?v=yBgzXslm11E; youtube.com/watch?v=Bqb_12Cvyhg; gmauthority.com/blog/chevrolet-blazer-video; motortrend.com/features/1969-blazer; motortrend.com/vehicle-genres/chevy-k5-blazer; youtube.com/1970+Blazer; hemmings.com/stories/article/blazer-chalet-and-jimmy-casa-grande, en.wikipedia.org/wiki/Chevrolet_K5_Blazer; en.wikipedia.org/wiki/Chevrolet_C/K; "Chevrolet Trucks: 100 Years of Building the Future." Crestline Books, 2019. Edsall